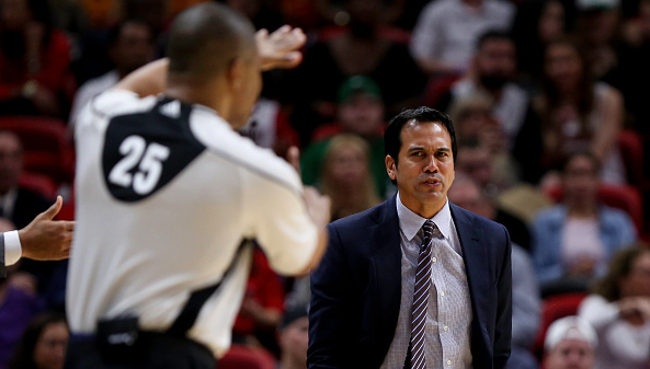 The basketball world has officially declared open season on NBA referees. Several high-profile blunders have deteriorated the already-flimsy morale among players, coaches, and referees to a point where the league will soon have no choice but to take action to try and rectify the situation.
In the past week alone, officiating crews have owned up to several egregious errors via their controversial Last Two Minutes Reports, including a pair of missed calls late in the fourth quarter of the Cavs-Warriors game on Christmas where Kevin Durant pretty clearly fouled LeBron James and, on Friday night, Giannis Antetokounmpo's game-winning dunk that should've been waved off after he stepped out of bounds on his way to the basket.
Not only has it sparked a lot of hang-wringing from players, coaches, fans, and scores of NBA scribes; it's prompted some naval-gazing on the part of the officials themselves, many of whom agree that the problematic reports accomplish little beyond establishing a purely nominal level of transparency and accountability.
But not everyone is feeling so pessimistic. In fact, Heat coach Erik Spoelstra believes things are actually improving in some respects. Via Ira Winderman of The Sun Sentinel:
"I think what we're all seeing is a transition now of officiating in our league, the incorporation of a lot of new officials, even the protocol and the training for officials is changing," he said. "I think it's all for the better. But you can't deny that there's a transition period right now. I look out there every single game and I miss seeing the veteran officials that you're accustomed to not even in the league anymore. A lot of 'em have retired."

***

"So you're going to see an effect that I think, with inconsistency and quality, until guys get more games and more experienced," Spoelstra said. "The training I think is very good. I think the program set to get it going in the right direction is right.

"There's always things that we can debate of whether it's too much in the last two minutes, when there's some bad calls down the stretch or missed calls. I've been there — you don't want to see the two-minute report. But I do like the fact that they're trying to make it better and to improve the officiating, and to hold the officials accountable."
It's a sobering and level-headed take from one of the league's savviest coaches, especially at a point where it feels like the walls are crumbling all around us.
Still, there's an argument to be made that the NBA needs to be more proactive about addressing quirks and loopholes in the replay guidelines that prevent officials from making the correct call in certain cases.
Until then, things will likely only get worse before they get better.