The 2019 Final Four gets underway on Saturday evening in Minneapolis and, while the NCAA Tournament's opening weekend wasn't considered an all-timer, the second weekend produced a bevy of spectacular results. After a wild Elite Eight, a quartet of worthy teams remains standing and there isn't a true Cinderella in the bunch, with all four squads bringing high-end talent and the ability to cut down the nets on Monday evening.
In this space, we'll tackle Saturday's double-header at U.S. Bank Stadium on Saturday night. With only three games remaining in the season, let's enjoy some quality college basketball for the last time until this fall.
No. 1 Virginia vs. No. 5 Auburn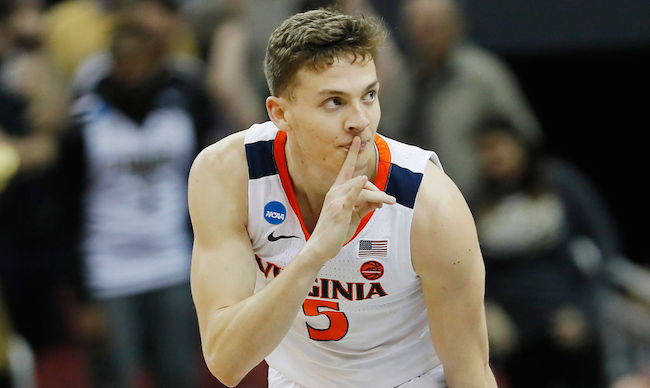 TV info: 6:09 p.m. EST, CBS
Vegas: Virginia -5.5; Over/Under 131
How did Virginia get here?: Virginia is the lone No. 1 seed remaining in the field but the Cavaliers have been on quite a ride. Tony Bennett's team was pushed (at least for a half) by Gardner-Webb in the opening round and Oregon in the Sweet 16, with only a win over Oklahoma in round two as a relatively breezy outcome. The Cavaliers then withstood an all-time effort from Purdue's Carsen Edwards in the Elite Eight, flawlessly executing to force overtime and outlasting a worthy challenger.
How did Auburn get here?: Bruce Pearl's bunch dethroned three "Blue Blood" programs on the way to the Final Four. After a nail-biting win over New Mexico State in the opening round, the Tigers bludgeoned Kansas to make the Sweet 16, then took care of business over North Carolina and Kentucky in succession. Along the way, Auburn did lose standout big man Chuma Okeke to a torn ACL, leaving the team short-handed in some respects, but the Tigers have earned their way to Minneapolis with stellar play.

Virginia wins if…: De'Andre Hunter reappears. The projected lottery pick has been relatively quiet since Virginia's opening round win and, albeit briefly, Hunter was weirdly benched during part of the stretch run against Purdue. This isn't a situation in which Virginia is overly reliant on his scoring in a way that a team would be on a traditional "go-to" guy, but Hunter's physicality will be important in this match-up, particularly as Auburn operates without Okeke.
Auburn wins if…: They make threes. At the risk of being overly simplistic, this one might come down to whether the Tigers can bury long-range attempts. Virginia's three-point shooting defense is elite, allowing opponents to make less than 29 percent of their attempts from beyond the arc. Auburn does have some skilled guards that will put the fear of God into the favorites but, simply put, Virginia is better unless Auburn brings the rain.
Don't be surprised if…: Virginia does Virginia things and controls this game. The Cavaliers are the betting favorites to win the title for a reason and, frankly, they'd probably be getting more love nationally right now if not for the combination of a less than aesthetically pleasing style and the 2018 UMBC loss. Virginia will slow things to a halt and they are wildly efficient on both ends. It won't be pretty, but it shouldn't be a surprise if they cruise.
Prediction: Virginia advances, covers the modest point spread, and does so in grind-it-out-fashion.
No. 2 Michigan State vs. No. 3 Texas Tech
TV info: 8:49 p.m. EST, CBS
Vegas: Michigan State -2.5; Over/Under 132.5
How did Michigan State get here?: The Spartans had some uncomfortable moments against Bradley in the opening round but, after dominant wins over Minnesota and LSU, Michigan State knocked off the Tournament's No. 1 overall seed. Tom Izzo's team sending Duke home wasn't overly stunning after what the Blue Devils had done previously but, in many ways, Michigan State proved itself on that grand stage and did so impressively.
How did Texas Tech get here?: Chris Beard's team opened the Tournament with a win over Northern Kentucky and followed that with a subtly dominant victory over a quality Buffalo team to reach the Sweet 16. From there, Texas Tech squeezed the life out of Michigan with a memorable defensive showing and, while the Red Raiders trailed for a good chunk of their Elite Eight battle with Gonzaga, the team made all the plays necessary to pull off an upset and land in Minneapolis.

Michigan State wins if…: They can get quality scoring opportunities. Texas Tech has been lethal in the half-court defensively and Michigan State might be in trouble if they can't establish some tempo on the offensive end. To be fair, Cassius Winston is one of the college game's best pick-and-roll operators but, in short, it would be easier for the Spartans if they could create transition opportunities and speed things up a bit.
Texas Tech wins if…: They take care of the ball. Texas Tech's offense has been only good, but they are much better when turnovers are limited. The Red Raiders aren't flashy offensively, but they are solidly above-average as a shooting team and only giveaways can really stall things. In addition to the effect on their offense, Texas Tech would love to play a grind-it-out game in which it can set its defense. It is much easier to do that when the opponent is taking the ball out of the net or forced to expend energy on the defensive glass.
Don't be surprised if…: There are more stories written about Chris Beard. Texas Tech's head coach has done a legitimately phenomenal job since taking the job and, while a lot of national attention will be paid to the elder statesman in Izzo, this isn't a coaching mismatch in favor of Michigan State. This is the biggest stage of Beard's career but there's no reason to think he won't have his players ready to go under the bright lights.
Prediction: Chaos reigns. Michigan State advances in a one-possession game that casual fans won't love (hello, defense!) but die-hards will really enjoy. Oh, and Texas Tech covers.