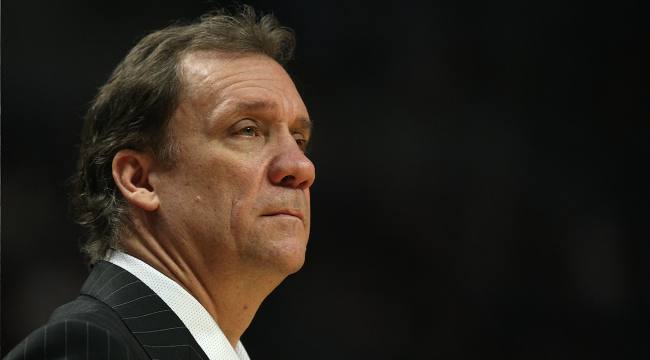 Thank goodness he didn't suffer.
According to legendary writer Sid Hartman of the Star Tribune, Minnesota Timberwolves Flip Saunders was in a coma for six weeks before succumbing to complications from Hodgkin's Lymphoma on Sunday.
Flip Saunders died Sunday after being in a coma for close to six weeks at the University of Minnesota Hospital, on life support and with little chance of surviving.

He had contracted Hodgkin's lymphoma and had one more treatment to go at Mayo Clinic when he contracted pneumonia, sources said, was hospitalized and never recovered.
Updates on Saunders' status were hard to come by following the Timberwolves' mid-August announcement that he had a "very treatable and curable form of cancer." Neither the team nor anyone close to the beloved coach offered insight on his health between that time and when Minnesota owner Glen Taylor said on Friday night that he would not return to the bench in 2015-16.
Obviously, the Saunders family and their friends made a concerted effort to keep Flip's dire circumstances a secret. And though rumors swirled regarding his health nonetheless, it speaks of the immense respect and admiration so many had for Saunders that word of his comatose condition never officially reached the newswire.
Rick Carlisle, coach of the Dallas Mavericks and head of the NBA Coaches Association, says the league's coaches will wear a lapel this season to honor their fallen friend and colleague.
Our thoughts will be with Saunders' family, his friends, and the Timberwolves organization throughout the 2015-16 season. And obviously, that's true of the entire of NBA at large, too.