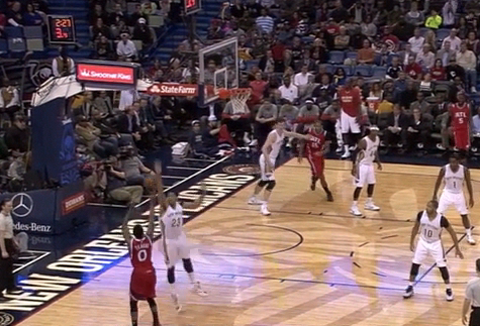 There's a reason Jeff Teague was a lock to make the 2015 NBA All-Star team despite finishing eighth in fan voting for Eastern Conference backcourt starters. He's the focal point for the team with the NBA's best record, and his points (16.8) and assists (7.5) per game are both current career highs. Perhaps that's why he thought he could take Anthony Davis in isolation during last night's loss in New Orleans.
Towards the end of the first half, Teague got a pin-down screen towards the near corner and when the ball was rotated over to him (the ball is always rotated in this Hawks offense), he was matched up against the long limbs of The Brow.
He tried a couple deft dribbling moves, but Davis kept his distance and didn't bite. Remember, Teague's ability to get into the lane and make the defense react is a big reason Atlanta's fifth in points per possession so far this year. Mike Budenholzer's space-the-floor offense gives him the room, and his quick cuts and handle does the rest. Players get open up around the perimeter as second defenders rotate over to impede Teague.
But Ant was on an island here in the corner, with no help defenders willing to leave ATL shooters. Davis did not get beat, and when Teague ultimately tried to step back for the jumper, Ant snuffed that out, too.
The greatest defender of all time, Bill Russell, would also appreciate the fact Davis blocked Teague with enough touch to retain possession of the ball and go the other way.
As the Pellies commentators warned in typically homer fashion: doesn't Teague have League Pass? He does, but Brow's 7-7 wingspan (and growing) is more appreciable up close. We doubt Teague ever tries this maneuver on Davis again.
What do you think?
Follow Dime on Twitter at @DimeMag.
Become a fan of Dime Magazine on Facebook HERE.