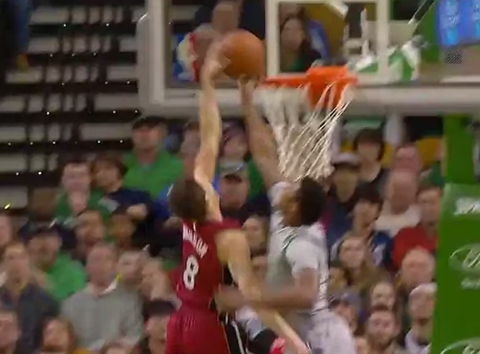 Yesterday was all about dancing sharks, a grumpy Kanye West surrounded by delirious NFL fanboys, and Pete Carroll's decision to throw on second down at the one yard line in the waning seconds of yesterday's Super Bowl. But the Celtics also played the Heat earlier in the day, and Marcus Smart showed off his defensive hops on what looked like an unimpeded Tyler Johnson breakaway dunk.
With over seven minutes left in the second quarter, Johnson leaked out for what should have been a breakaway slam. Except, Smart hustled back and timed the block perfectly.
Smart didn't shoot particularly well in the 82-75 Heat victory, going just 1-of-6 from the field (1/4 3pt), but he dished nine assists and had this fantastic block, plus a steal in 30 minutes of action.
Johnson, despite the rejection, scored 13 points, snagged nine rebounds, dished four assists and had two steals and two blocks in 27 minutes off the bench during the victory.
For Celtics fans, the Sunday loss is offset by what their Patriots did later in the night.
(GIF via reddit)
What do you think?
Follow Dime on Twitter at @DimeMag.
Become a fan of Dime Magazine on Facebook HERE.