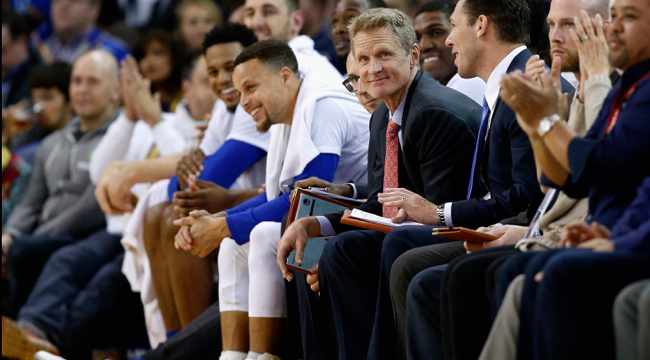 That question may be easier to answer for Golden State coach Steve Kerr than for anyone else in the organization. No matter what happens in the final 11 games of the 64-7 Warriors' season, Kerr, a member of the 1995-96 Bulls team that won a record-setting 72 games, will be part of a squad that has the most victories in an NBA season.
After defeating the Clippers on Wednesday night, the Warriors are on pace to become the first team ever to surpass 72 wins. Only 11 games remain in their season. Yet, because of the Spurs' brilliance, Golden State has maintained a mere four-game lead for the No. 1 seed in the conference. Still, when you're chasing one of the most iconic records in NBA history, one that — if broken — would allow you to claim the Best Regular Season Team Ever title and maybe more come the playoffs, the answer to the question becomes murky.
To rest or not to rest?
Kerr says, via ESPN's Ethan Sherwood Straus, that he's not the only one with a say in the matter:
"It's the players who are setting a record," Kerr said Wednesday before the Warriors took on the Los Angeles Clippers. "It's not the organization. It's the players who are doing it. So they will absolutely have some say in matters down the stretch in terms of how we approach everything. But again, we could lose the next couple games, and all that's thrown out the window.

"I know they want to get it. So we'll act accordingly. If the players want to go and they're fine physically, we'll probably play them."
It's a supremely Kerr answer. The second-year Warriors coach has always fostered an environment of inclusion. If random video coordinators are encouraged to make strategic suggestions, then the players will certainly be given the same treatment.
Kerr wants the record. He'll fully cope to that.
"That's pretty enticing," he told ESPN.
But he admitted that chasing the wins record makes strategizing in the final 11 games of the year "a little trickier." Still, if the Warriors want to go for their second-consecutive championship, they have to make sure they're comfortable heading into the postseason, as everyone knows the Spurs, their inevitable Western Conference foes, will be.
(ESPN)