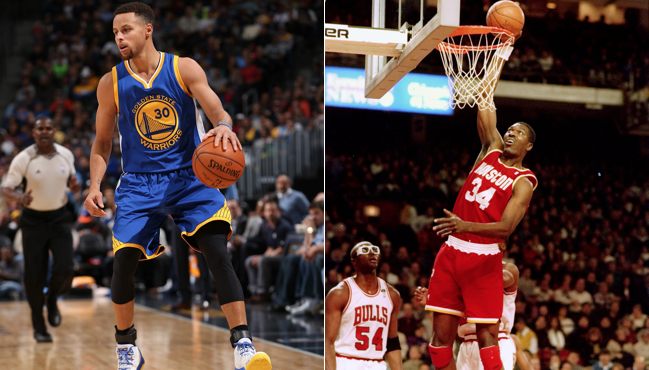 The Golden State Warriors beat the Denver Nuggets Sunday night, 118-105. The Nuggets kept within striking distance until the final session, but the Warriors were too much as Klay Thompson scored 21 points, Steph Curry added 19 and interim coach Luke Walton improved to 15-and-0 on the year (technically speaking, those wins will be attributed to Steve Kerr, who is still out after spinal fluid leaked during his back operation over the summer).
Before the game, Mike Malone said Steph Curry is "well on his way to earning his second MVP. But it was the Warriors team that throttled his Nuggets squad.
The win tied Golden State with the 1993-94 Rockets and the 1948-49 Washington Capitols for the best starts in NBA history. On Tuesday, they can pull ahead for the sole best start ever when the lowly Lakers visit Oracle Arena.
After the Rockets won their first 15 games to start the 1993-94 season, Hakeem Olajuwon captured his first title against the Knicks in the Finals that year. The Capitols — who were coached by Red Auerbach before he took over the Celtics and led them to their dynastic run through the late '50s and '60s with Bill Russell — went on to lose in the Finals of the Basketball Association of America (BAA) to George Mikan and the Minneapolis Lakers in the final year of the BAA before it changed to the NBA.
After the Lakers come to town on Tuesday night, Golden State will travel to Phoenix for a game Friday before hosting the Kings at home on Saturday. After that, it's a seven-game road trip that'll see them fly all over the country. If they come back undefeated from that seven-game road trip, we'll no longer be talking about the most impressive start in NBA history (though, they'll have long since locked that up). No, we'll be talking about the 2013 Heat and 1972 Lakers, because they'll be approaching the most impressive win streaks ever. Plus, the 70-win debate is already in play.
After most prognosticators envisioned a Warriors team stuck behind a gauntlet of elite teams in the Western Conference last year, they've come out with a surprising chip on their shoulder after winning the chip. That, more than anything, is a big reason behind their motivated start to the year, after capturing the Larry O'Brien trophy in June.