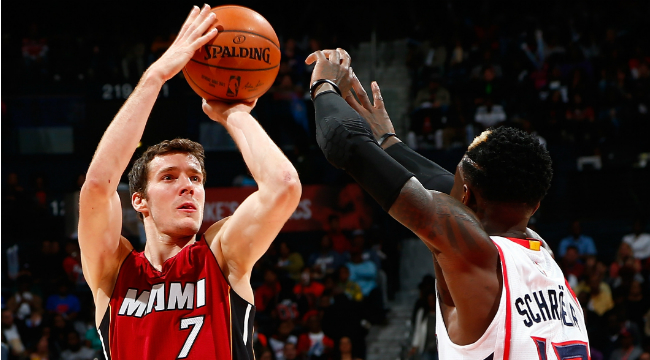 We can't quite say it's written in stone, but it's written in a Woj tweet, so with all the necessary caveats implied, the Miami Heat have brought back one of their two crucial departing free agents in Goran Dragic. The details of the deal have been confirmed by multiple sources as a five-year contract worth $90 million, with the fifth year being a player option.
Even though this would be a maximum contract for Kawhi Leonard, Dragic is signing his third contract, which would put his max deal at $108 million over five years with the Heat. It might be a small surprise that Dragic didn't wait to see if anyone was going to offer him a max deal, but it feels like fair value for a player at the deepest position in the NBA. Dragic did make a Third Team All-NBA in 2014 when he almost got the Suns into the playoffs, but there are a lot of great point guards in the Association, and Dragic still can't be considered in the class of Stephen Curry, Chris Paul, Russell Westbrook, and leans closer to the Kyle Lowry (four years, $48 million) tier.
And the Heat probably asked Dragic not to push for more so they could pay Dwyane Wade close to the max and still bring in a piece or two. The Heat are closer to the salary cap than most teams this offseason, but luckily Pat Riley is used to operating in that space.
So, Dragic and Luol Deng are coming back next season. All the remaining uncertainty now focuses on if Dwyane Wade comes back, or if Miami needs to replace him (maybe with Monta Ellis?)
(Via Adrian Wojnarowski)