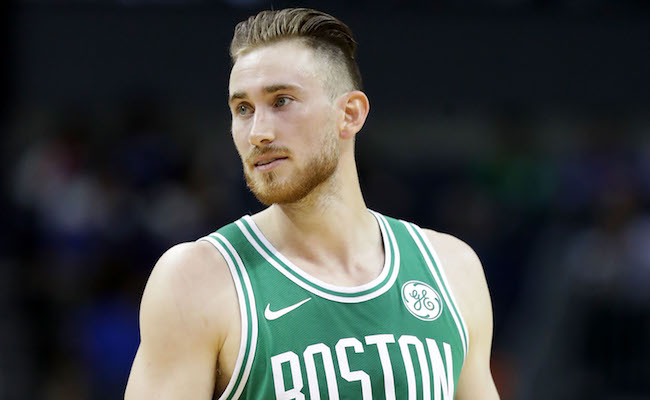 If healthy, the Boston Celtics boast an impressive collection of talent and, on Tuesday, another encouraging sign emerged with regard to the rehabilitation timeline of star forward Gordon Hayward. Though the assumption has been that Hayward and Kyrie Irving would be on track for an "all systems go" training camp in late September, head coach Brad Stevens shed even more positive light on Hayward's status.
"(Hayward) looks good," Stevens told Tom Westerholm of MassLive.com. "I saw him a couple weeks ago in San Diego. I went out there and watched him work out and he looked really good. Then two weeks later, three weeks later I saw him again. You can't tell anything from my untrained eye. He looks good. He'll be cleared to go some 5-on-5 here very, very, very shortly — like, anytime soon."
Provided Hayward is actually cleared between now and training camp, the Celtics would have their full squad available and it is worth noting that more than two weeks will elapse between the start of camp and the regular season opener. Given Boston's championship aspirations, the franchise has every reason to take things slowly with both of their previously injured stars and, in short, the Celtics have enough available talent (headlined by Jayson Tatum, Al Horford and Jaylen Brown) to win at a substantial clip even if Hayward and Irving take their time in returning.
There was nothing exceeding revelatory about Stevens' comments in this spot but, if nothing else, it appears Gordon Hayward will be playing 5-on-5 "very, very, very shortly" and that is unquestionably positive.