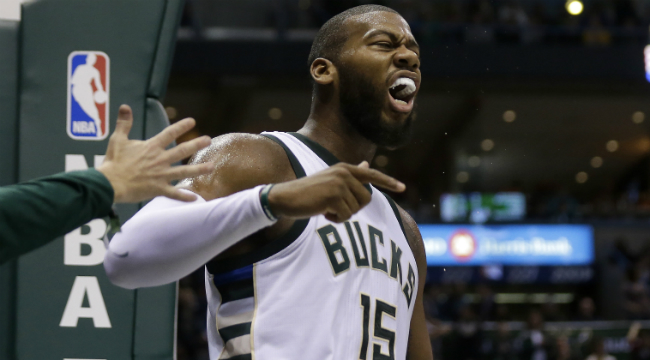 The severe injury to Khris Middleton threatens to derail what was otherwise shaping up to be a promising season for the Milwaukee Bucks. Their immediate trade of backup point guard Tyler Ennis for hybrid forward Michael Beasley showed just how desperate they are to recreate some sense of a perimeter game after losing far and away their best shooter.
Greg Monroe, whose offense is entirely dependent on the post and isn't much for defense, has never been a great fit for this team, and now he finds himself pushed to the bench in head coach Jason Kidd's attempt to preserve some sense of spacing and/or defense from his starting lineup. Apparently, Kidd forgot to let Greg in on that line of thought:
If Monroe is losing his spot so that Giannis Antetokounmpo can match up against power forwards on defense while running the point, that would at least clear out some space under the basket to counteract Milwaukee's lack of shooting. If he's losing his spot to John Henson, that means Kidd is just going full-bore on a starting lineup that can blanket the opposition to stile any attempts at scoring.
Whatever winds up happening, Monroe seems to best fit the Bucks as an Enes Kanter-style buckets-getter in limited time off the bench. None of it is ideal, but it could at least be passable in the wake of Middleton's absence. For his part, Greg seems to understand that.