Unathletic. Mundane. Dull. Boring. These are some of the categories Milwaukee Bucks' center Greg Monroe might be unfairly stereotyped into. His plodding, below-the-rim style fails to invigorate excitement into the everyday fan, however, when you take a more intimate look you'll see a player who's vital to his team's success. Perhaps, the most important bench player in the league.
Milwaukee was a clearly superior team with Monroe on the floor last season, as they had a positive net rating of 3.7 compared to -2.2 (via NBA Advanced Stats) when he had his butt in a seat. That's even more impressive considering the Bucks only posted a positive net rating of 1.5 with superstar Giannis Antetokounmpo and a -2.1 without him.
Chill, Bucks fans, nobody's saying Monroe's more paramount to his team's success than the Greek Freak, just that his ability to anchor a weak second-unit is extremely valuable.
With the former Georgetown Hoya on the court, Milwaukee was an elite scoring team, as they posted a 110.1 offensive rating. If applied to the whole season, that would've given the squad the fifth-best rating in the league. Monroe's ability to generate easy buckets not only for himself – but for his teammates as well – is the focal point of their bench.
On one play you might see him using his thick frame to post up on the left block and show off some gorgeous, to die for footwork. The half-spins, pivots and dream shakes will leave the defender wondering what the hell just happened as the ball is being laid in the hoop.
On the following possession, you'll catch him at the high post where he'll hit a back-cutting guard for an easy layup. This sexy dime-dropping may look easy, but it comes with a lot of practice.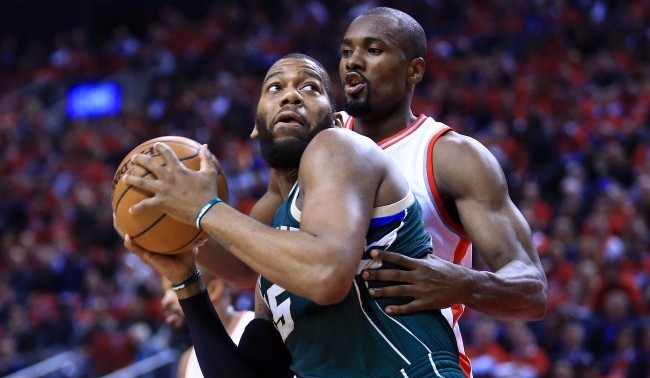 These are staples of their offense only made possible by the big man's willingness and ability to find his open teammates in tight spaces. His 3.7 assists per 36 minutes last year ranked seventh amongst all centers who played 50 or more games.
He also has an unworldly connection with Rookie of the Year winner Malcolm Brogdon. Of all the passes Monroe made last season, 20.3 percent of them landed in Brodgon's hands which the guard converted into points 50.6 percent of the time, including knocking down a superhuman 52.2 percent of his 3-point attempts. This improbable connection has led to the creation of "Brogroe," a cross between the seventh-year center and his 6-foot-5 associate.
Monroe is much more than an adept passer and efficient scorer (57.2 true shooting percentage last year). His ability to snatch contested rebounds is a huge asset to one of the worst rebounding teams in the NBA. There's no saying where the Bucks, ranked 29th in 2016-17 with 41.7 rebounds per 100 possessions, would be without Monroe snatching 45.5 percent of his boards in a contested manner.
The former seventh overall pick has proven to be an adequate basket-getter and rebounder since he came into the league in 2010. The knock against him has always been his defense, as the slow-footed big man struggled in this era of pick-and-roll and positionless basketball.


Fortunately for the Bucks, the team didn't take a negative hit when Monroe came on the floor, as their defensive rating was maintained at a surly 106.4. Some of this credit deserves to go to the big man for accepting the new bench role, but head coach Jason Kidd should also receive some notoriety here. Moving Monroe to the second unit meant the competition wouldn't be as fierce and allowed Kidd to gameplan differently. This enabled the team to reduce his exploitation in the open court and permitted them to conceal him on harmless players.
Granted, he still struggled to the tune of allowing 1.08 points per pick-and-roll possession last year, however, he makes up for that with his quick hands. His 1.8 steals per 36 minutes was equivalent or greater than defensive studs Jimmy Butler (1.8) and Patrick Beverley (1.7).
In what started as a questionable pairing, Monroe and Milwaukee have proven to be as delightful as brats and sauerkraut where the whole is better than the parts. Without the seven-year vet, the Bucks bench would be as woeful as their ability to defend corner threes.
Monroe deserves to be recognized as a leading Sixth Man of the Year candidate. His team doesn't employ the plethora of weapons other candidates have the luxury of playing beside.
Take last year's winner Eric Gordon for example. The second-unit he played on was fully armed, easing the offensive burden placed on the shooting guard. If he didn't step up and knock down outside shots on a given night the Houston Rockets could easily turn to the sharpshooting Ryan Anderson or the second runner-up Lou Williams without skipping a beat.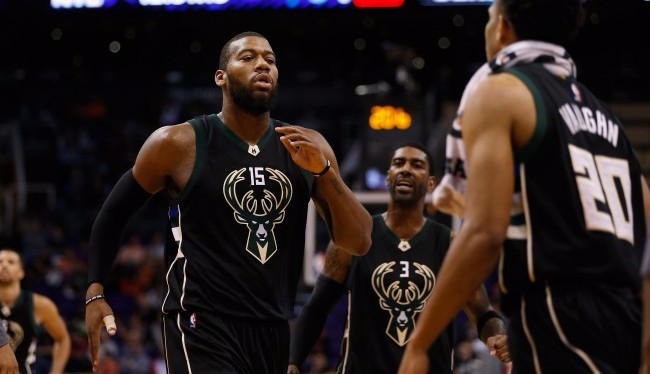 Milwaukee didn't have that luxury as Monroe was a focal point of their offense instead of a complimentary piece.
Regardless of their differing roles, Monroe's per 36 numbers are favorable across the board when compared to Gordon's. The big man averaged more rebounds, assists, blocks, and steals while just missing out in the points category (0.1 difference) by the hair on his chinny, chin, chin.
The damaging difference-maker for the former Hoya is the voter's historic bias against big men in this award (only two players 6'10" or taller have won in the past 20 years). Monroe, who ranked 436th in 2016-17 by recording an average speed of 3.93 miles per hour while on the court, isn't as nearly aesthetically appealing to the eyes as the sweet-shooting wings.
This sloth-esque style he employs is a necessary evil for the big man to endure the above-the-rim play of his 7-foot counterparts. It's time we appreciate the adjustments Monroe has made to survive, and thrive, in this league. Let's give him the push he deserves and put some respect on his name.