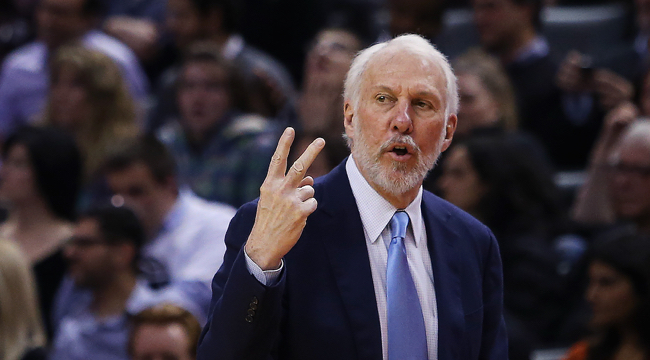 The NBA has come to rely on the three-point shot more and more since it was first introduced during the 1979-80 season. That year, only 3.5 percent of shot attempts came from behind the arc, but that percentage has steadily increased almost every season until this year, where more than 28 percent of attempts come from beyond the arc.
It's become common knowledge now among NBA teams that if a team can't get an easy shot at the rim, it's just smarter to shoot a three-pointer instead. No one is more aware of this change than Spurs coach Gregg Popovich. San Antonio's offense used to be grounded on their ability to get it to Tim Duncan on the low or mid-block. Three-pointers occurred on those teams (that's all Bruce Bowen did on that end of the court), but they weren't as large a component of San Antonio's attack as they've become over the last decade. The contemporary Spurs' brand of motion offense is part and parcel with that arc 23.75 feet at the top and 22 feet in the corners. It's how they space the floor to attack.
But Popovich, a purist in the truest sense of the term, hates it, as he told CBS Sports' James Herbert:
"I still hate it," Popovich said. "I'll never embrace it. I don't think it's basketball. I think it's kind of like a circus sort of thing. Why don't we have a 5-point shot? A 7-point shot? You know, where does it stop, that sort of thing. But that's just me, that's just old-school. To a certain degree, you better embrace it or you're going to lose. And every time we've won a championship, the 3-point shot was a big part of it. Because it is so powerful and you've gotta be able to do it. And nobody does it better than Golden State, and you know where they're at. So it's important. You can't ignore it."
This year, the Spurs are in the bottom five in three-point attempts and in pace. They're trying to assimilate LaMarcus Aldridge into their motion-heavy system, while also amending it to accommodate his elite mid-range production. Their pace has also fallen off a cliff as they slow the ball down and try to get the most out of each possession. But it's not that they're just dumping the ball to LMA and getting out of the way. They're still first in the NBA in passes per game, but all that whipping the ball around is leading to more mid-range shots and post-ups.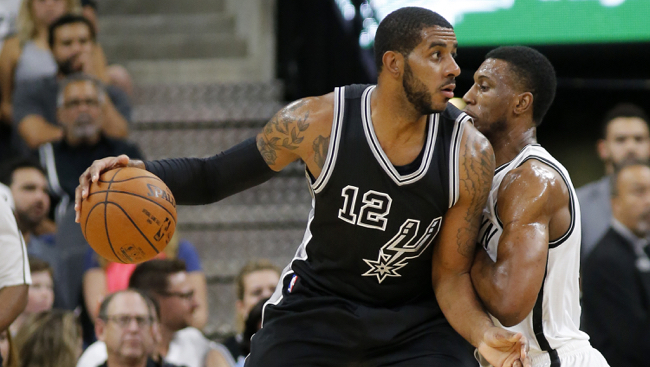 Two years ago, post-ups accounted for less than nine percent of San Antonio's possessions ending in a shot attempt, turnover or foul. This season, it's more than 13 percent, and possessions are ending more in spot-up shots this year, too (22 percent this year vs. 20 percent in 2013-14). As mentioned, they're also scoring a lot less in transition or in the pick-and-roll, their bread and butter when Tony Parker became their de facto offensive force towards the end of the 2000s.
But the change has been extremely successful so far, with the Spurs (18-5) trailing only the Warriors in winning percentage through the season's first quarter. They're ranked No. 3 in points per possession in half court, per Synergy data, and No. 4 overall, with the discrepancy stemming from their bottom third ranking on transition points, which is expected when they're actively trying to slow it down.
Gregg Popovich was able to adapt his team to a more three-point-heavy attack despite his disgust with what it's done to the game of basketball. We're just happy he's now able to go away from it again without sacrificing any of his team's on-court success.
Basketball isn't a math equation, but it's also not just about gut instinct or what tradition stipulates. Like politics, the analytics vs. old guard debate exposes unsound fanatics who tread to close to the far end on either side of spectrum.
Gregg Popovich is still the old man yelling at us to stop relying too much on three-pointers, but he's also capable of modifying his team to that game, too, while spending this season cozily ensconced in the grey area between the arc and the iron.