For a number of years, Rockets legend Hakeem Olajuwon acted as a sort of yogi for various NBA players looking to improve their post play. People like LeBron James, Dwight Howard, Amar'e Stoudemire, and countless others made the pilgrimage to his secluded Texas compound to study his breath-taking footwork and try to add his endless combinations of moves and counter-moves to their repertoire.
But of all the players he tutored, there was one in particular who stood above the rest. Olajuwon didn't hesitate in a recent interview when asked to name his best student. Via SportingNews:
"I've worked with a lot of players, but the one who really capitalized on it the most is Kobe Bryant," the Basketball Hall of Famer said of the 6-6 retiring Lakers legend. "When I watch him play, he'll go down in the post comfortably, naturally, and he'll execute it perfectly."
It bears mentioning that he makes no reference to Dwight Howard when talking about his best students. He's tutored Howard both privately and as a trainer with the Rockets during the past two seasons, yet Howard has shown very little progress in that area. Nonetheless, it really shouldn't come as a surprise. Bryant's post-work has long been celebrated as one of the hallmarks of his game, and The Dream clearly played a significant role in his evolution as a basketball player.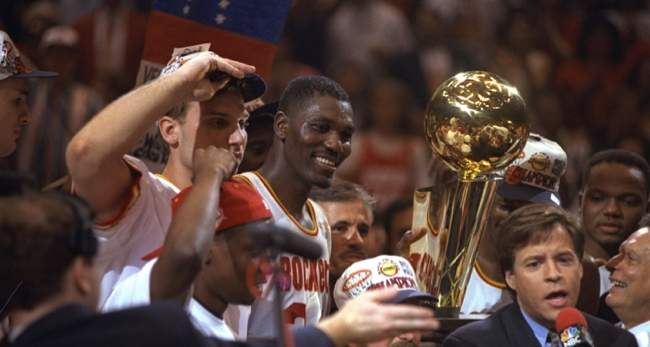 Speaking of evolution, Olajuwon also took the opportunity to sound off about the state of big men in the modern NBA, how his style might fit in today's game, and whether he'd be willing to adapt to the new philosophy of outside shooting.
Olajuwon acknowledged that, while his championship Rockets teams indeed shot a lot of three-pointers, they still played inside-out through him in the post, which is the opposite of what the Warriors do now. Prodded a little further about his ability to draw opposing big men away from the basket with his ball-handling and face-up game, Olajuwon admitted to the efficacy of that strategy, but was quick to draw an important distinction and in the process shoot down any talk of him extending his game all the way out to the three-point line:
I wouldn't shoot 3s because, for me, 3s were a low-percentage shot. Now, when I was playing, they didn't want us to be taking jump shots because, if you took jump shots as a big man, they considered you soft. You should be in a paint. Inside the paint was for tough guys and big guys to mix it up. When you shoot jump shots, it's not physical. You were settling. That's the mentality. You can always settle. So for me to shoot 3s, I wouldn't be helping my team. I would rather be inside or even mid-range.
Though he stops just shy of calling today's league "soft" by staying in the past tense, the implication remains. Still, it's a fun little thought-experiment to wonder how Olajuwon would fair in today's game. We're guessing that he'd still be pretty damn good, if not downright dominant.