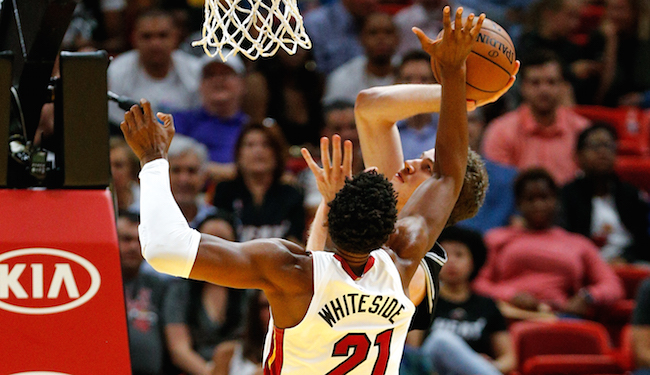 Hassan Whiteside has been maligned in recent years as a relic of the past, a center without too much of a place in the current NBA where pace and space are king. This has led to some contentious moments in Miami as he's found himself benched in fourth quarters when the matchups aren't in his favor.
However, while he may not be the ideal center for the modern game, when he's given the right matchup he can put up some spectacular numbers. Wednesday against the slower paced Spurs was that kind of game and Whiteside took advantage to the tune of a performance the likes of which the NBA hasn't seen since 1994.
Whiteside scored 29 points, pulled in 20 rebounds, and swatted away nine shots, making him the first player since Shawn Bradley in 1994 to put up a 25-point, 20-rebound, 9-block game. He's now the eighth player in NBA history to have such a game, joining Kareem Abdul-Jabbar (4), Bob McAdoo (2), Hakeem Olajuwon (2), Elmore Smith, Bob Lanier, David Robinson, and Shawn Bradley as the only players to meet those numbers — Joakim Noah was the most recent player to have a 20/20/9 game in 2013.

Eight of Whiteside's nine blocks came in an incredible first half for the center in which he had 18/14/8.
For Whiteside, this game will serve as evidence of what he can do in the right situation, but the challenge for the Heat remains how to extract this level of play — even if in smaller doses — against teams that play with more tempo than the Spurs. Still, any time you can do something for the first time in almost 25 years on the court it's an incredible feat and one Whiteside will remember for some time.