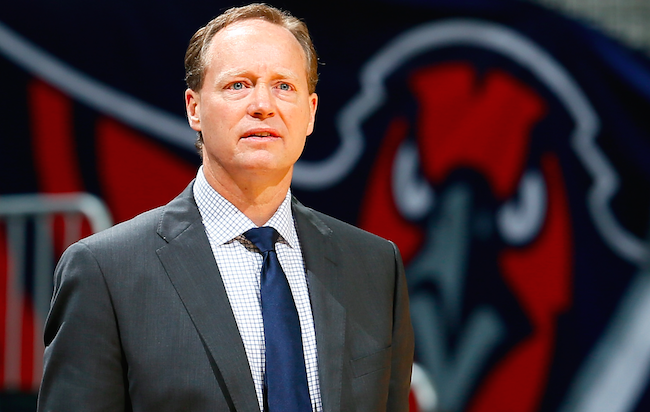 There could only be one wrong answer for Coach of the Year this season: any name other than Mike Budenholzer or Steve Kerr. And while it's fine to disagree who among that tandem is the more deserving candidate, that they ranked first and second in final voting – by a wide, wide margin – is indicative of just how brilliant both coaches were in 2014-2015.
The Atlanta Hawks' Budenholzer edged the Golden State Warriors' Kerr for the Red Auerbach Trophy, annually given to the NBA's Coach of the Year as voted on by assorted media members. Below are pertinent details of the league's announcement on the matter.
The Atlanta Hawks' Mike Budenholzer, who guided the team to the best regular season in franchise history, is the recipient of the Red Auerbach Trophy as the 2014-15 NBA Coach of the Year, the NBA announced today.

Budenholzer received 67 first-place votes and 513 total points from a panel of 130 sportswriters and broadcasters throughout the United States and Canada. The Golden State Warriors' Steve Kerr, who led the Pacific Division champions to a franchise-record and NBA-high 67 victories in his first season as an NBA coach, finished second with 56 first-place votes and 471 total points. Jason Kidd of the Milwaukee Bucks was third with one first-place vote and 57 total points. Coaches were awarded five points for each first-place vote, three points for each second-place vote and one point for each third-place vote.
Budenholzer and Kerr accounted for 123 of 130 total first-place votes. Fifth-place finisher and reigning recipient Gregg Popovich of the San Antonio Spurs received the third-most first-place votes with three, and the Boston Celtics' Brad Stevens and Milwaukee Bucks' Jason Kidd were awarded two and one first-place vote, respectively. Full ballots can be found here.
In his second season on the Atlanta bench after a long tenure as an assistant under Popovich, Budenholzer led the 60-22 Hawks to the most wins in franchise history and the top seed in the Eastern Conference playoffs. The team won 22 more games in 2014-2015 than it did last season, subsisting on a steady diet of team-based play that spurred it to basketball's sixth-best offense and seventh-best defense.
The Hawks' Al Horford, Paul Millsap, Jeff Teague, and Kyle Korver were named to the All-Star team for helping their team to a 43-11 record in the season's first half. Atlanta's four All-Stars tied a league record for most honorees from a single team most recently accomplished by the 2011 Celtics and 2006 Detroit Pistons.
Kerr, meanwhile, set the mark for most wins by a rookie coach while guiding the Warriors to a league-best 67-15 record. Golden State posted basketball's highest net rating since the 2008 Celtics, placing second in offensive rating and first in defensive rating. The team's starting five of Steph Curry, Klay Thompson, Harrison Barnes, Draymond Green, and Andrew Bogut – a group which led all units in net rating that played at least 300 minutes – didn't register a single second of court-time last season under former coach Mark Jackson.
The yearly resumés of Budenholzer and Kerr are impeccable. And while we'd hedge with Golden State's coach as opposed to Atlanta's due to his team's superior statistical profile in a far more competitive conference, that's picking nits of a voting tally that accurately reflects the superiority of both candidates.
Congratulations to Budenholzer!
[NBA]