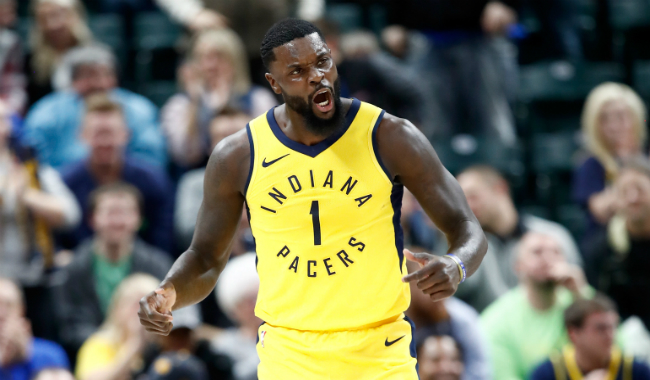 The Indiana Pacers entered this offseason with suddenly lofty expectations following a surprising 2017-18 campaign that saw them push the Cavaliers to seven games in the first round of the playoffs.
Indiana had positioned itself nicely going into this summer to be able to either keep the team intact completely or make some tweaks and open up significant cap space thanks to a number of deals with team options or non-guaranteed salaries for next season. Bogdan Bogdanovic, Darren Collison, and Al Jefferson are all entering the final seasons of deals worth about $10 million, but each of them are non-guaranteed with the opportunity to take the $30.5 million owed to each and turn it into just $7.5 million, to clear an extra $23 million.
Those decisions are still yet to be made, but on Monday the first domino fell in terms of the Pacers clearing extra cap room as they reportedly have decided to decline their team option for Lance Stephenson's $4.3 million deal next season.

That moves Indiana to having just about $12 million in cap space this summer, with the aforementioned non-guaranteed deals giving them an opportunity to clear as much as $35 million with ease. If Thaddeus Young were to decline his player option, that suddenly becomes over $48 million in cap room.
In a summer where there are few teams with significant cap space, Indiana may be able to pounce on some bigger names than usual. The Pacers aren't often a top destination for free agents, but given their success last year they're an attractive team from a competitiveness standpoint and can offer significant money. According to ESPN's Chris Haynes, there are already a pair of wings expected to be the target of Indiana in replacing Stephenson.
Either of those signings would make sense and would be an upgrade over the mercurial Stephenson. Indiana's in a very interesting position this summer and if they go about things wisely they can really upgrade their roster.