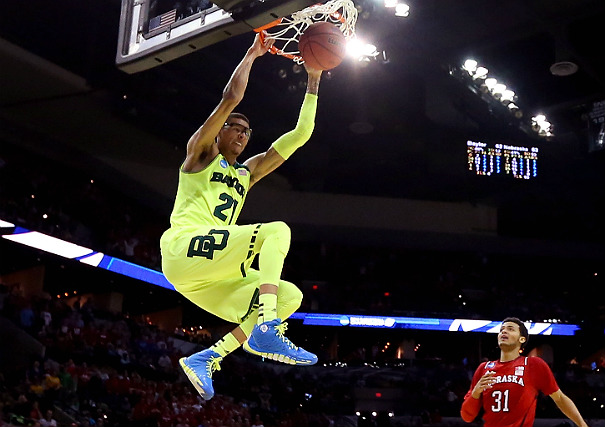 Millions of fans watching Isaiah Austin at the 2014 NBA Draft experienced a powerful and emotional moment. The Baylor star, who was diagnosed with Marfan syndrome during predraft testing (a rare genetic disorder that affects approximately 1 in 5,000 people), could no longer play the game or risk death despite being pegged as a potential first-rounder. And yet, Austin still was able to hear his name called, as commissioner Adam Silver made the ceremonial pick and selected him for the NBA.
A bunch of stories were written, tweets were sent out, the video hit Facebook. For many people, the end of Austin's NBA dream was inspirational. For Isaiah Austin himself, the end of that dream was only the beginning of a new one.
UPROXX Sports checked back in with Austin, who has constantly been in motion since June 2014. He's set to graduate from Baylor in May with a degree in marketing, he continues to raise awareness for Marfan syndrome through his foundation, he is currently working on a project to build a house in Waco along with Habitat For Humanity, he is an ambassador for NBA Cares, he wrote a book, and he's the spokesman for the Haier Achievement Award, which recognizes athletes who perform community service, overcome adversity, or excel in the classroom.
For someone well into adulthood, that's a lot. For a 22-year-old, that's downright astounding. But Austin is no ordinary 22-year-old.
Martin Rickman: Everyone kind of knows your name. There has to be some power in that, right? You've been able to take your story and make it so inspirational for people even though you didn't have control over the circumstances that came into your life.
Isaiah Austin: Yeah, I would definitely say there is some power in that. What I'm trying to do now is control what I can control. My attitude toward everything that has happened to me in my life. I try to remain as positive as possible. Basketball never defined me as a man or who I was. It was just a sport that I played.
I've talked to a lot of players who have spent so much time in the game, and when it ends, they sometimes have trouble with that adjustment. Did you have trouble with that?
I was always Isaiah Austin. I was never Isaiah Austin, the basketball player. My whole life was basically dedicated to basketball because I had dreams of becoming an NBA player, but it wasn't what I depended on. I wanted to go to college and get an education, and I wanted to do things once I retired from basketball. Unfortunately, I was forced to retire early, so I had to find out a new way to continue my life.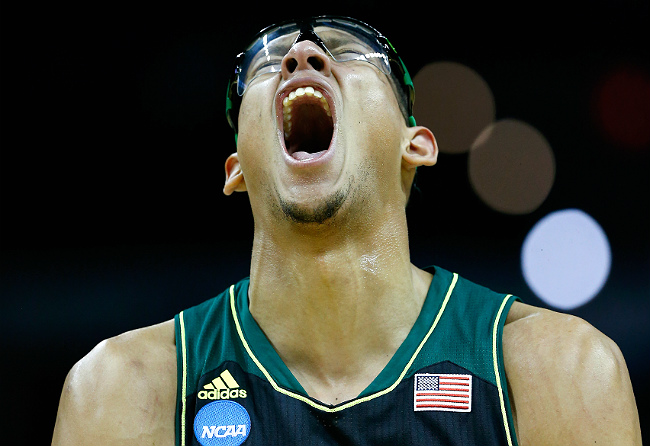 A lot of people's knowledge base about our story stops at the NBA Draft and that moment that was so powerful. It's a clip you'll see for years because it was so emotionally captivating. But you've done a lot since then.
I'm finishing up school now. I re-enrolled at Baylor, and I'm graduating in May. That's my most prestigious accomplishment. I never knew when I'd have time to finish college after I entered my name into the draft, but I knew that one day I did potentially want to get it over with. Fortunately, I was able to come back, and Baylor honored my scholarship. I'm very excited about that. I know that my mom and family are excited because there are a lot of basketball players who go into the league and don't come back to school. I just wanted to be that different person.
Have you spent time around the team since you've been back?
Yeah, but not so much this year because I've been so busy with my foundation. We just opened up a new addition in Waco. It's called the Isaiah Austin Dream Again Home, and we're building a home in Waco where we partnered with Habitat For Humanity, and we're letting a family who needs to get back on their feet with financial problems or just other adversity live in that house rent-free for a year.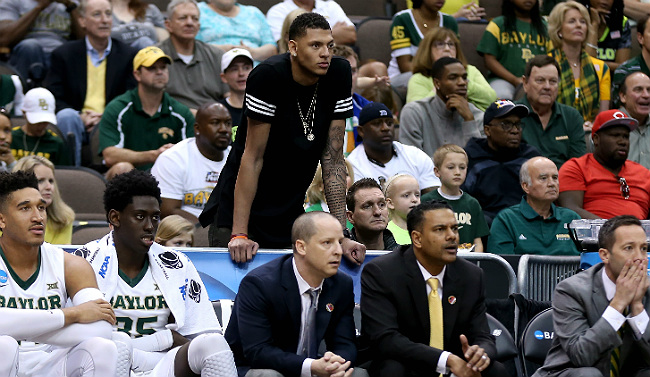 Between the foundation, school, and everything else you're doing, have you gotten any advice on how to juggle it all?
That's the craziest thing. Sometimes I get behind a little bit in my classes, but I have a lot of people helping me out in my life and at Baylor. They help me deal with the packed schedule. I just had to learn most of it on my own, and it's something I'm continuing to learn.
I saw you for a second at All-Star Weekend doing some NBA Cares stuff. What does that typically include?
They have me do everything from packing canned goods with volunteers and fans, to doing signings, to hanging with NBA legends. I work a lot with the Make A Wish kids, and hang out with them for a day or two. I'm really happy with what I'm doing.
You've accomplished a lot in such a short time, but you seem like someone who's never going to be comfortable – in a good way. Do you have things you haven't started yet?
I do want to do a college tour. We have plans to do it, but I've been so busy. I want to speak to basketball players and share with them my experience, the knowledge I've gained at such a young age, and let them know that what they're doing can change someone's life, and it can't be taken for granted. It's a privilege to be in that spot, and there are people out there who would die to be in that position. It's something they really should respect.
Is there anything else you'd tell a kid who is in that position you were in just a few years ago?
They never know the lives they can touch by what they're doing on the court. The countless people who have come up to me ever since my story came out and told me they fought through adversity, or they came from the same background. I would just tell players that you need to care, and have the integrity to do the right thing at all times. You never know who's watching.
When you reflect back on Draft night now that you've had almost two years to let it sink in, was that as important as it seemed like it was?
It was very important. Millions of people saw my story that night and were inspired. It's all because of the NBA. Because they had the grace and the class to pull something off like that. I'm nothing but thankful to the NBA. It's opened up a tremendous amount of doors.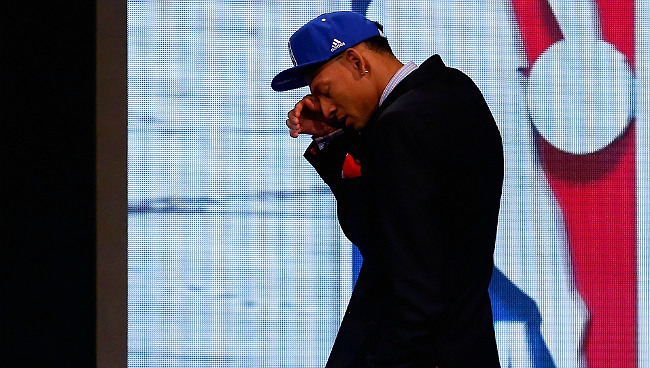 Music has come up as a common thread for you in a lot of interviews you've done. Where did that start?
My mom always played music growing up, and I always sat and listened to the lyrics. One of my favorite artists out there right now is Lecrae. We share the same beliefs, and I think that his music really does inspire me. You can hear it in his lyrics, his voice, and his pain, it's something we share in commonality. It helps me grow to be a better, and healthier person in tough times. It helps me push through those tough things that everyone has in their lives, it helps me overcome.
When you do have those tough moments, is there anything else you do to put yourself in a good place?
For me I would definitely say it's reading my Bible, man. All the answers are in there for me. Some days I feel like I'm lost, and I don't know what to do, I just open up a random page and start reading from there. The words – His words – can change your life, and your thinking.
You're as familiar with basketball in the state of Texas as anyone. This year, it seems like with the teams in the NCAA Tournament field, the state turned a corner again. 
It's a different generation, and they go through it. There's always going to be different types of players, and programs go up and down. I think in the years to come, the state will just be stronger. Everybody wants to go to Texas A&M because of the fan base. Baylor is a rising program. Everybody dreams of playing at Texas if you live in Texas. It's just little things carrying over that will help Texas become a powerhouse.
What's something that people don't know about you that they should?
I'm a normal person, man. I am just a normal student living the college life. I respect everybody. I'm humble. I know it's not very humble to call yourself humble, but that's how I'd describe myself. I'm a humble person.
How did the opportunity with the Haier Achievement Award come up?
When they approached me to be a spokesperson, I just asked them what it would entail. They told me the award wouldn't just recognize student-athletes who are excelling in their sports, but in the classroom, and people who have fought through adversity. I've always believed in giving back to your community. Once they told me that, we connected, and I've been really impressed with what Haier is doing. A lot of student athletes aren't being recognized for everything that they do. People don't understand how hard it is to be student-athlete, balancing out school, your life, and your sport. The people who are up for this award, it's inspiring.