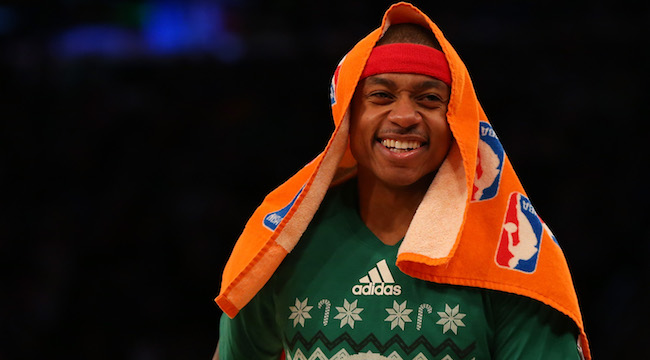 Through three quarters on Friday night, Isaiah Thomas was having a very good basketball game for the Boston Celtics. Then, the fourth quarter happened, and a very good basketball game became a transcendent one. Thomas finished with 52 points in a 117-114 victory over the Miami Heat, and his unconscious showing in the fourth quarter ended with a franchise record 29 points.
The diminutive Thomas compiled 23 points on 13 field goal attempts over the first 36 minutes, and that was fairly impressive. From there, though, Thomas knocked down six three-pointers in the closing period, ending the night with nine conversions from beyond the arc on only 13 attempts.
For a bit of context, Thomas' explosion was not only a career high for the likely All-Star, but his showing doubled as the most prolific scoring output for a member of the Celtics since Larry Bird put up 60 points against the Atlanta Hawks on March 12, 1985. Thomas also scored 20 points over less than a six-minute period in the fourth quarter. In short, this was a ridiculous outing for Thomas, and that also included "M-V-P" chants from the assembled masses in the Garden.
There are games in the NBA in which even the best players need to play overly aggressive, inefficient basketball to reach the 50-point mark. On this night, Isaiah Thomas did none of that, needing only 26 field goal attempts to almost single-handedly topple the Heat and increase his lore in the minds of Celtics fans.