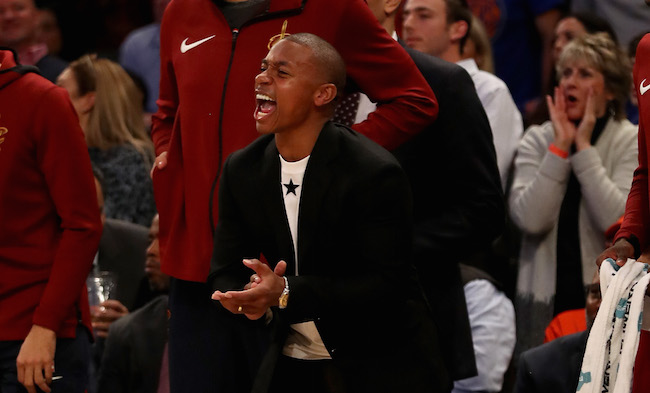 LeBron James is already dreaming of a world where Isaiah Thomas and Tristan Thompson are back in the lineup for the Cleveland Cavaliers. In fact, he's simulating that world in NBA 2K right now.
Thompson hasn't played since Nov. 1 and Thomas hasn't played at all this season, but now it appears that both are reaching full health and might see the Cavaliers roster soon.
Thomas has been out since he played for the Celtics last postseason, a torn labrum in his right hip taking him off the floor for a long stretch. The Cavs put in timetable in of mid-December for the point guard, so it's likely we see him sooner rather than later here, but according to CantonRep.com the team wants to see how he recovers from contact during practice before he'll be officially cleared to play.
Both Thompson and Thomas were playing 4-on-4 at Cavaliers practice on Wednesday, a welcome sight for anyone who wants to see Cleveland back at full strength before Christmas Day and the start of the long haul in the NBA's schedule. And hopes are high that Thompson will be back in a Cavs uniform soon as well.
Indeed, reporters captured some video of Thomas and Thompson participating in 4-on-4 on Wednesday. Both looked pretty good.
James said on Wednesday that he's using video games to map out what the Cavs look like with he and IT on the court, but he just seems excited to have the team finally coming together.
"At the end of the day it's all about the next day," LeBron James said as he kept an eye on his teammates from the opposite corner of Cleveland Clinics Courts. "When they say they feel good the next day after a workout session, that's great to know."
James has essentially played the point for Cleveland with Thomas on the shelf and Derrick Rose reevaluating his career. But suddenly, all at once, it seems that the depth may be returning to Cleveland just in time for the holidays.