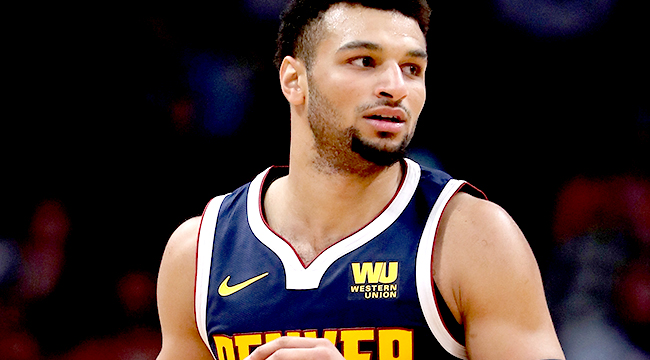 Jamal Murray is frustrated.
At a glance, that seems strange. His team, the Denver Nuggets, currently boasts the best record in a stacked Western Conference at 18-9, while he's averaging a career high in points (17.4), assists (4.9) and rebounds (4.2) per game. And yet his greatest weapon, the thing that makes Jamal Murray one of the most promising young guards in the league, is malfunctioning.
"I'm not even shooting well right now," Murray laments over the phone from a photo shoot for Express. "Once I get my shot back, once I start getting my rhythm back and getting healthy, I'll be fine."
What's not malfunctioning at the moment is Murray's swagger. In his third season in the NBA, Murray has graduated to rocking designer sneakers and a brighter color palate off the court. Add that in to his deal with adidas, and well, Murray has quietly become one of the best dressed dudes in the league. There is major competition for having the best threads on his team, though, as he cites Nick Young and Will Barton as being "in a league of their own, on top of the world with their swag and stuff."
So maybe Murray has given up on being the most stylish dude on the Nuggets, but he's certainly not quitting on fixing his shot, even as he's found himself in the midst of an extended cold stretch to start the year.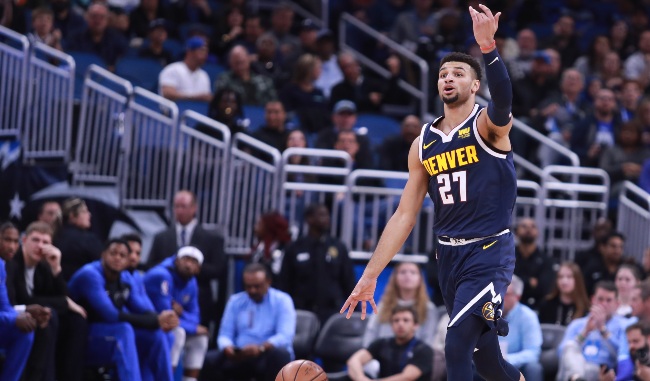 After shooting nearly 40 percent from deep last season, he's dipped to just 30 percent in this young 2018-19 campaign, and his field goal percentage has dropped from 45 percent to 41. Even his conversion rate from the free throw line has dropped five percentage points. Despite his team's success, it can throw you for a loop when the thing you do best, your bread and butter, suddenly stops working.
For Murray, this means turning to the guy who knows his game the best.
"My dad and I, we go through my shot a lot," Murray said. "Talking about the arc and my follow through, my balance. What kid of energy I'm bringing, how high I'm jumping. I watch film and look at my shots, see the difference between makes and misses. I work on my shot on a daily basis, getting in the gym for extra work, I'm always working. But it matters in the game, so I once I change my mentality, get my confidence up a little more, start taking that shot like I have been my entire life, I'll be fine."
That's a consistent message from Murray, not just when it comes to his shot, but the state of the Nuggets in general. For a second straight season, Denver has been ravaged by injuries to some of its best players. Gary Harris is out for at least a month with a hip injury. Paul Millsap broke his big toe in a game against Charlotte last week and is expected to be out 4-6 weeks. Murray is still fighting a lower leg injury himself.
Those setbacks could be the type of thing that derails a team, but the Nuggets just keep chugging along, surprising many by sitting atop the Western Conference two months into the year.
"We're kind of used to it," Murray said. "Paul's been out both years, Gary's been out for a little bit, so we're kind of used to mixing different guys into the rotation, guys seeing more minutes. We're used to it. We still play the game the way we play, it's just unfortunate to lose such big pieces of our team for periods of time but, it's nothing to panic about. As long as health comes first and we keep looking ahead, we'll be fine."

One of the biggest reasons why the Nuggets have been able to keep their leaking ship from sinking has come on the defensive side of the ball, which might be the most surprising thing to come out of Denver in a decade. For years, the Nuggets simply outran and outscored their opponents, pushing the ball at every opportunity and treating defense as an annoying obstacle standing in the way of getting the ball back.
This season? The Nuggets sport a defensive rating of 104.2, fifth-best in the NBA. Only the Boston Celtics and Memphis Grizzlies allow fewer points per game. For Murray, all of this success comes back to one simple thing: Denver's effort on that end of the floor.
"We did the same thing as we did last year, same kind of coverages and all that," Murray said. "But I think we're scrambling more on defense, covering for each other, communicating a little bit more. We're making teams uncomfortable. Our offense will come, as everybody knows. We're not playing well on offense like how we know we do, but our defense is getting it done for us right now."
Millsap will return. So will Harris. Michael Porter Jr., the Nuggets first round pick working his way back from back surgery, has reportedly been "impressing" Denver's staff with his jump shot. Isaiah Thomas is getting close to a return, too.
If and when the Nuggets return to full strength, and Murray rediscovers his ability to shoot, the team in the mile high city is going to be more a problem than it already is.
"We've got a lot of talent on this team, a lot of offensive guys," Murray said. "I think once we get healthy, we'll be contenders. The sky's the limit."