Now is the moment for James Harden. His basketball career is in its prime. He's among the marquee draws in the league — a perennial fixture among the top scorers, MVP candidates, and All-NBA and All-Star teams. His team, the Houston Rockets, are a loaded contender, combining elite skill, scoring punch, and star power.
Harden is also the face of adidas basketball on a 13-year, $200 million deal, working his basketball pedigree along with swagger and prerequisite drip that puts him among the style icons in the game. With a signature beard as distinctive as his quick footed lefty step back, he's also broken through to the coveted crossover pitchman status.
Make no mistake, Harden is absolutely locked in on his basketball legacy, completely aware of the window and the assembly of talent around him. A championship is in his sights as Chris Paul, and more recently, Carmelo Anthony have joined him in Houston on a quest to get that elusive first Larry O'Brien trophy. Still, the dynamic of today's NBA brings a top-level player with elite skill, personality, style, and smarts. In turn, those players of select company possess the power to select the company.
A prime example: Kobe Bryant. He's shifted the standard shoe/soft drink/headphone deal set up to an approach that results in an upstart business opportunity that involves input, influence, and equity. It bears acknowledging that the Mamba has had a post-playing Midas touch, netting him an Oscar, an Emmy, and big bucks via his investment in BodyArmor. Now, meet Kobe's latest venture: Art of Sport, a science-meets-performance bodycare brand that is built for performance as it applies to an active, athletic lifestyle.
With Kobe as founding partner of AOS, he assembled a roster of influential athletes from across the sports landscape to bring a diversity of use on the product line. First up was Harden, whose distinctive style and bankable pitchman chops made him a natural fit. Dime sat down with Harden to talk about his connection with Kobe and AOS, what life has brought him beyond basketball, and where he wants to take it.

Dime: Explain to people where you're at in this moment. You're in the prime window of your career, becoming a household name on and off the court. What is your approach as things are coming at you from every angle?
James Harden: There's so many opportunities in the world that we have they we didn't probably have five, ten years ago. I think where I've been going these last few years is what do I love doing, and what do I use every single day to help my body, my mind and my spirit out. So for me, I don't need to just sign, I want to make sure it's real, and that it's going to make sense for myself and the brand.
What has changed for you the most?
Just my mindset. The main thing that's changed, though, is valuing my time. Every single day I think about the people that I'm surrounded by, basketball, and my business. Those are every single day. How can I better the people that are around me, my family, my friends? Basketball, how can I take my game to another level? And then business, how can I create my legacy and be able to provide for my family for the rest of their lives?
I think you've always done a great job of consistently being yourself while repeatedly raising the stakes. What goes into that dynamic of preserving your identity while putting yourself out there that people don't see?
It takes a lot of time. More than you know, more than I even knew. It's a part of it. You just smile through it and you have fun with it. It's what you sign up for. It would be bad if I didn't have these opportunities, then I would have to re-think myself.
Honestly, these last few years, details have been the key to my life. It's not about the bigger, whole rah rah. Do the small things, the fundamentals. That carries you further than any place you can go.
That's a hell of a line to walk. Sure it's the goal every player has — taking care of their business, becoming a mogul. There are levels to it. First and foremost, you have to establish yourself in the league. How would you suggest guys work towards that without getting ahead of themselves?
There's so many guys that just want to make it to the NBA and have that jersey on. When you really make it is when you're 10, 15 years — aside from injury — being a true professional, working hard every single day. Just staying true to yourself and the game … good things will happen.
Still, just to play at the pro level, you have to have won the genetic lottery of being born with an NBA body, or have a basketball intellect that's off the charts, or be supremely skilled to set yourself from the rest of the pack. Making it, even for a just few years, is only becoming more of an accomplishment.
Yes, yes, yes. Or there's a lot of guys that are just way more athletic or can shoot way better, but don't focus on those details that we just talked about. It's so hard to make it — not only to make it, but to be one of the best in the game? That's another story.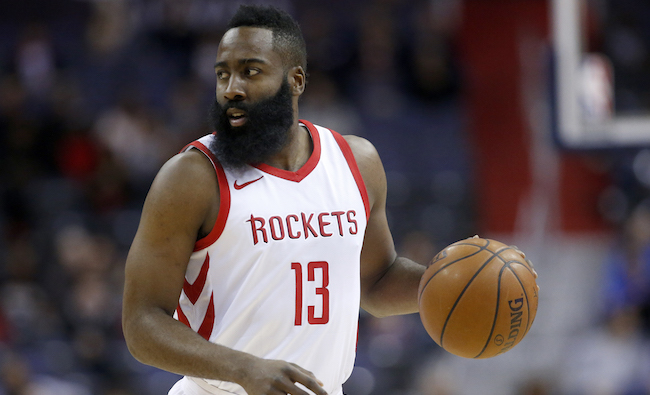 With more time in the league, along with raised expectations, comes increased demands. How are you staying fresh and actually enjoying it?
Every day, that's real. Every day, no matter how I'm feeling. I have to enjoy it. I signed up for this. I love this. Basketball gave me these opportunities, so what else would I be doing?
What the best perk?
All of it. There's a lot of perks. [laughs]
What else are you focusing on besides basketball and business?
That's it. My basketball and business is everything.
Back to business, athletes are conditioned to keep their circle tight and establish trust. How are you working with all of these concepts being pitched to you and meeting new people, those outside of your circle?
It's easy, because people that have professional experience, they've prepared themselves for those moments, to be in that position. So I've got to figure out, what was their mindset and their work ethic to get to where they are now?
Then we have conversations about my work ethic and how I got to where I am, and put them together. Whether it's billionaires, millionaires, start-up companies — it really doesn't matter. I think everyone has their own story of how they're successful and their work ethic, so I want to learn about it, because it might help me in my day-to-day life.
Are there other athletes that you've looked to their example for influence?
Kobe for sure. We're part-owners in a few companies. What he's done after basketball, he's done an unbelievable job of putting his time into what he loves to do.
So with Art of Sport, Kobe is someone you know well, and they sought you out as a pillar to build on this concept of performance, science and substance. What else went into coming on board and establishing this partnership?
What they saw me incorporating into their brand, how I fit into it, how we can make greatness happen, all-in-one. The sales pitch, all that. Once I heard the dynamic of everything that was given and what they envisioned, the product … it's authentic. It's real. That's what I'm about, that's what I want to be a part of.