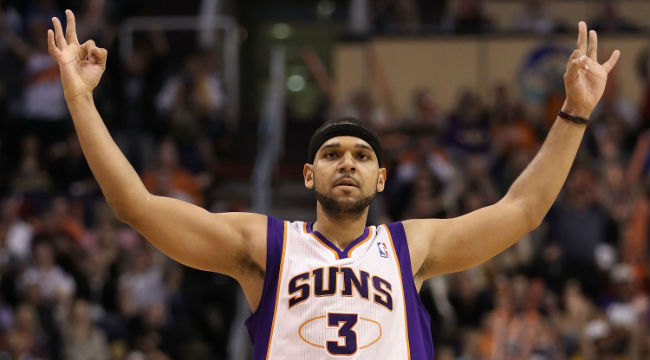 From 2008-2013, Jared Dudley carved out a role on the Phoenix Suns as a savvy front court player who could hit threes and impact a game in a number of ways. He's bounced around the league ever since he left Arizona, but according to Paul Coro of azcentral.com, Dudley will make his return to Phoenix on a three-year deal worth a rather reasonable $30 million.
Dudley tried to entice Phoenix to sign him last summer, but the interest turned mutual this time after Dudley carved out a role in Washington last season as a power forward predominantly for the first time in his nine-year career. An NBA source told azcentral sports Friday night that Dudley has agreed to sign with the Suns for a three-year, $30 million contract, the same terms for which Mirza Teletovic accepted Friday from Milwaukee.
Excited to head back to a place that he considers a home, Dudley took to Twitter to confirm that the reports of his return were true.
As Zach Lowe of ESPN remarked, this is a smart signing for the Suns, which boast a ton of young and athletic dudes, but outside of Tyson Chandler and P.J. Tucker, don't really have a lot of seasoned veterans on their roster. Dudley is a guy who, at the very least, can help the Suns as they look to groom their two big men of the future: 2016 first round draft picks Dragan Bender and Marquese Chriss.
Dudley was a member of the Washington Wizards during the 2015-16 season. He averaged 7.9 points, 3.5 rebounds, and 2.1 assists in 25.9 minutes per game. His biggest contribution to the team came from behind the arc, as Dudley knocked down 42 percent of his attempts from three.
(via azcentral.com)