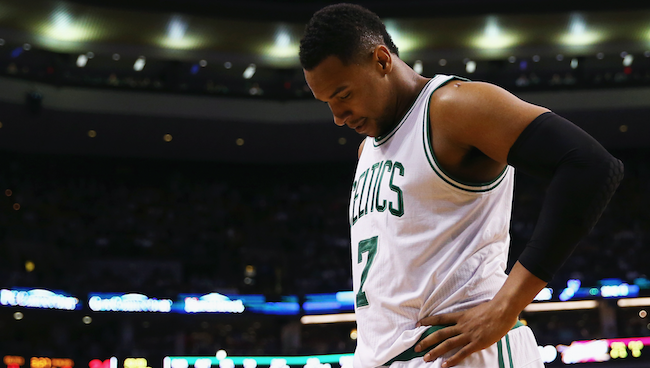 This is the most significant season of Jared Sullinger's career, a reality the talented but inconsistent big man fully understands. Just in case he wasn't aware of the immense stakes at play in 2015-16, though, those closest to Sullinger took it upon themselves to make sure he absolutely would be.
According to Chris Forsberg of ESPN Boston, the 23-year-old walked into his apartment last May and was greeted by his immediate family, agent David Falk plus another FAME agency power broker, and the man who might ultimately be the driving force behind his revived career: lauded basketball trainer John Lucas.
What followed was a "basketball intervention," with those in attendance stressing the importance of Sullinger re-committing himself to the game – and physical conditioning, of course – before his potential might be wasted. The former first-round pick, entering his fourth year in the league, is eligible for an extension from the Boston Celtics until late October. If the parties don't reach an agreement before that deadline passes, Sullinger will become a restricted free agent next summer, receiving what will amount to the first big payday of his young career – as long as the Celtics and other teams deem he's worthy of it, naturally.
That's where Lucas came in this summer. Spurred by tough love from those closest to him, Sullinger spent a majority of the past several months working out in Houston with the league's foremost life coach. And though he wouldn't commit to a specific amount of weight loss at Boston's media day on Friday, the Ohio State alum made clear that he not only has a new body heading into this season, but also an adjusted outlook on the game in the general.
Courtesy of ESPN Boston:
"What [workouts] didn't I do?" Sullinger said with a laugh when asked about his activities. "I mean, I went from boxing to swimming to on-the-court basketball to on the track. I did so many sports other than basketball. There was one point where I was down there in August for two weeks and I didn't touch a basketball. He wouldn't let me. We just got in shape other ways. It was a lot of fun."

[…]

"I think John's biggest thing is, with everything he went through… I think John's biggest focus was to not let me make a mistake," said Sullinger. "Sometimes it's not always drugs, it could be other things. And he wanted to just clear my mind and understand that I can be whoever I want to be. I've just got to make the right choices. And being there with John really helped me out."
Lucas, a former NBA player in the 1970s and 1980s whose stellar career was nearly derailed by a very public bout with substance abuse, has become the go-to voice for professional athletes in need of guidance. The 61-year-old has worked with several notable NFL stars, and recently took Ty Lawson under his wing following the embattled point guard's trade to the Houston Rockets.
Sullinger's weight problem is different from those with which Lucas normally deals. But a new attitude can have sweeping effects across anyone's life, and that's where Lucas helped him most. Now that Sullinger is healthier and happier than ever before, he's primed for a season that could establish himself as one of the Celtics' long-term building blocks.
And if not for that May intervention, such a possibility would have been far less likely than anyone cared to admit.
[Via ESPN Boston]