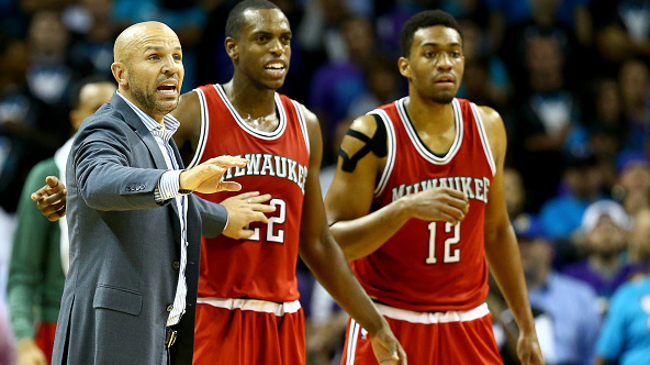 The Milwaukee Bucks have quickly positioned themselves as one of the most promising young teams in the NBA. With a hotshot coach in Jason Kidd and a talented core that includes Giannis Antetokounmpo, Greg Monroe, Khris Middleton and more, they could transform into a real contender sooner rather than later, especially in the (L)Eastern Conference.
It also helps that they're getting back Jabari Parker, who missed 57 games during his rookie season after tearing his ACL. The downside is that he only played a total of 25 games, which in his coach's mind, and in the minds of some of his teammates, still makes him a rookie. Via Dave McMenamin of ESPN.com:
"Someone asked a good question. I didn't have the answer: 'Is he still a rookie this year because he only played 18 games?'" Kidd said before the Bucks logged a 110-101 preseason win over the Cleveland Cavaliers on Tuesday. "And so I don't know the answer to that, but in our eyes, he's still a rookie."
That's a tract that will likely come with mostly disadvantages for Parker. As the N0. 2 pick in the 2014 draft, he won't be eligible for the Rookie of the Year award, and if his veteran teammates decide that he also didn't log sufficient time in the hazing and general subservience department, then he might have to make up for that as well
Either way, it'll be fascinating to see what the supremely talented Parker is capable of this season now that he's healthy.
[Via ESPN]