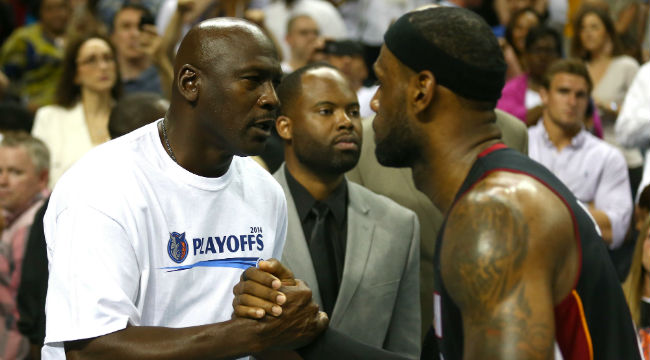 Since 1998, when Michael Jordan won his sixth and final championship with the Chicago Bulls, every superstar that has come into the league has been compared to his greatness, especially those that played on the wing. Jordan's individual production combined with team success in the form of rings makes him the greatest of all time for most basketball fans — with some exceptions.
Kobe Bryant was the first heir apparent to His Airness that was worthy of earnest comparison. However, there are few non-Lakers fans that would dare say Bryant was a better player than Jordan. When it comes to LeBron James, there are more objective observers (as much as anyone that watches sports can be) that are willing to entertain the idea that James has reached the level of Jordan with the chance to surpass him as the greatest.
James' longevity as an MVP caliber player and absurd individual numbers — you have to go back to his rookie season 13 years ago for the last time he didn't average 25 points, six rebounds, and six assists in a season and even then he averaged 20.9/5.5/5.9 — make him one of the greatest individual players ever already. The main argument against James is the rings argument, in which Jordan has six and James has three (and potentially counting), but Jeff Van Gundy told ESPN's Zach Lowe on the Lowe Post Podcast that it's time to accept that, whether LeBron wins any more titles or not, there is a legitimate argument for him being close to Jordan.

"The conversation is relevant right now, whether he wins another championship or not," said Van Gundy. "He's playing at peak prime production and efficiency this late in his career … The conversation is already relevant. I'm not going to go as much on championships … If you're going to talk about best careers, there's no way you can say it's not close. It's close. Already. If he runs off another two-three years like he's going at right now, you're talking about 17 years like this? It's going to be amazing."
Van Gundy continued on and explained that if he does manage to pull of the seemingly impossible and take down the Warriors again in this year's NBA Finals, which would give him four titles overall and back-to-back wins over two of the greatest regular season teams in NBA history, then you have to genuinely open up the discussion of James v. Jordan.
"If they get to the Finals and beat this Warriors team, the Lebron- Jordan thing is now a debate. I know that's sacrilegious … If he has four rings to six, and he beats a 73-win team and then beats that same team again with Kevin Durant … and he's on pace to be perhaps the leading scorer in the history of the NBA and one of the three-four best passers ever … I'm out of ways to describe it and praise it … If they actually pull this off, that conversation now begins in earnest."
For some, they'll never be able to get past the rings argument, but there is plenty of merit to Van Gundy's point. What James has done — and he doesn't show signs that he's slowing down — is incredible and he's got a legitimate chance to be near the very top of some key all-time lists ahead of Jordan, along with three or four titles. He's currently second all-time in points per game (27.1), ninth in points (28,787), 12th in assists (7,461), 7th in Win Shares (205.4), second in PER (27.6), and you have to figure he has three years left of great production in him and any further he wants to go.