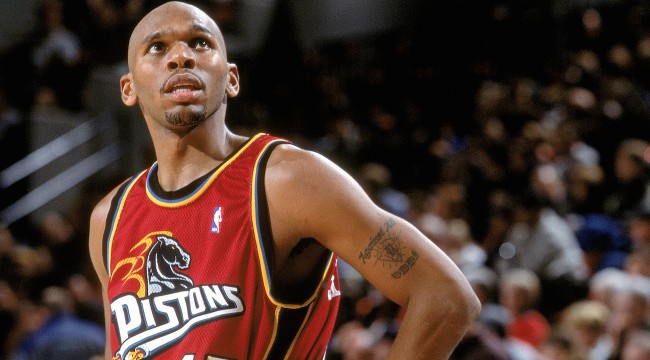 Jerry Stackhouse is still salty.
Max, he of the manual retweet, has a point. And even if Stack was joking around with his hyperbolic tone, he does, too.
As a member of the Pistons during the 2000-01 season, Stackhouse led the NBA in total points, making him the last man to lead the NBA in that category and not make it onto one of the All-NBA teams. Actually, in the 14 complete seasons since 2001, the league's total points leader has made the All-NBA First Team 13 times. The only time that rule broke was in 2001-02, when Paul Pierce led the NBA in total points and found himself on the All-NBA Third Team.
Stack's individual numbers may have been gaudier than some of the third teamers' in 2001 — Ray Allen probably would've been the odd man out — but his team's record was what did him in. The Pistons went just 32-50 that year, and unfortunately for him, it was a breakout year for some other scoring guards.
Third teamers Gary Payton and Allen had more efficient years. The Second Team guards were young up-and-comers. Tracy McGrady had his first of many superb seasons as the go-to scorer in Orlando. Kobe Bryant had his best year to date in L.A. while competing on an eventual champion. The First-Team, meanwhile, already had a volume-scoring guard in Allen Iverson — alongside Jason Kidd.
Maybe there wasn't room.
Still, if you want to find the last guy before Stack to lead the league in points and not make an All-NBA team, you have to go all the way back to Bob McAdoo in the 1975-76 season. And that was back when there were only two, not three, All-NBA teams.
Stack can quibble all he likes.
Now Watch: Every Crazy Angle Of Villanova's Shot You Didn't See On TV