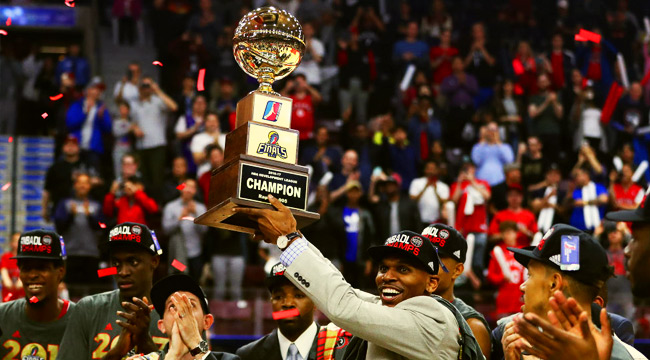 Last April, Jerry Stackhouse beamed with pride in a champagne-soaked shirt as he spoke the the media following the Raptors 905 winning the decisive Game 3 of the G-League Finals. His squad had just capped off a Warriors-like run through the NBA D-League (now the G-League) with a 39-11 regular season record, the best in the league, and a 7-1 run through the playoffs to the championship.
Stackhouse, only four years removed from his NBA playing days, had transitioned from player to Raptors assistant to head coach in the D-League in remarkable time, but he proved in 2016-17 that he was doing so on his own merits and not simply trading on his name recognition.
His journey to the coach's chair started towards the end of his tenure in Dallas, playing under Avery Johnson who would let Stackhouse sit in on coaches meetings. While Stackhouse would play five more seasons in the NBA — and again briefly under Johnson in 2012-13 in Brooklyn — he had already begun the process of contemplating what his future would be.
Where Stackhouse had an 18-year career, the majority of pro players aren't so lucky. The average NBA player out of the league in four and a half years, forcing them to consider options after their playing days much sooner than he had to. For those in the NBA, basketball is their life, so naturally there's an inclination to find a way to stay involved with the game. Some go into the media either locally or nationally, while others look to coaching as the way to keep basketball as part of their life. Transitioning from being a player to a coach isn't as simple as trading a jersey in for a suit and moving closer to the scorer's table on the bench, however, as players have to learn to view the game as a coach.
As Stackhouse explained, you have to learn to see the game from a wider lens. As a player, you're often worried about executing your portion of the offense and where other options may be. On defense, you're concerned about your man or a portion of the floor. As a coach, you have to train yourself to think about every part and think a few steps ahead, while also being a motivator and teacher.
To assist players in the transition from player to coach or player to a front office position, the NBA has run the Assistant Coaches Program since 1988. The ACP allows former NBA, WNBA, and G-League players to go through a variety of events to provide them with experience in teaching, game preparation, scouting, and in-game coaching.
Some participants have coaching experience at some level, while others may not, but it's an opportunity to build on their skills and, along with the mentoring side, provide them with an understanding of what is required of coaches at the highest level.
Stackhouse went through the ACP in 2014. At that point, Stackhouse had been coaching at the AAU level for four years with his Stackhouse Elite program based in Atlanta, as well as working with adidas at their adidas Nations event and as a coach at adidas' EuroCamp in Italy. For Stackhouse, participating in the ACP was not only an opportunity to build on those experiences and learn more, but he felt it was as important in proving he was serious about coaching.
For former players, the transition to coaching can be impeded by a stigma or preconceived notion about who they were as players and whether they're truly committed to being a coach. Stackhouse's time at in the NBA's Assistant Coaches Program proved his dedication to the craft, and also let NBA personnel see his skills that only those plugged into the AAU circuit may have otherwise known.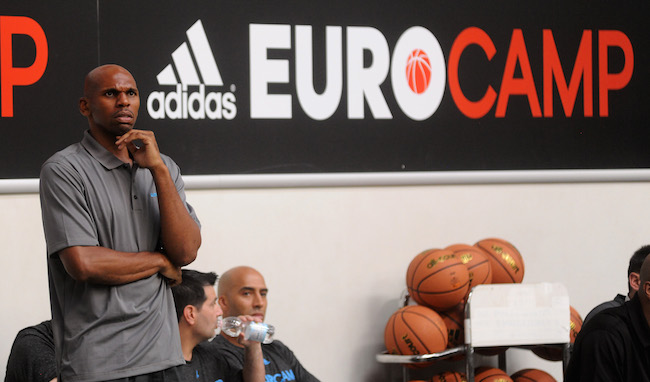 Among the participants for the ACP in 2017 were former NBA player Reggie Jordan and former WNBA player Edniesha Curry. Both, like Stackhouse, have prior coaching experience, with Jordan coaching in Mexico's top league — where he also finished his playing career as a player-coach — while Curry has previously been an assistant at the University of Maine. They are hoping the exposure and lessons learned this summer can likewise put them on the radar of NBA and G-League personnel and take them to the next level of coaching.
Jordan had the unique experience of learning how to coach on the fly, transitioning from player to player-coach to coach in Mexico. He, like Stackhouse, learned quickly the differences in approaching the game as a coach compared to a player. However, unlike Stackhouse, who had an 18-year NBA career, Jordan's was more typical of the average NBA player.
Jordan lasted six years in the league, slightly over the average NBA tenure, and had experience playing international ball on either side of his time in the NBA. His experience as a basketball journeyman was something that helped him connect with players he was coaching at the Portsmouth Invitational — an amateur tournament that features college seniors and is part of the ACP rotation — as well as the G-League Invitational.
At both events, players are scrapping to be discovered and continue their basketball careers, either at the NBA, G-League, or international level. Jordan felt his experience, having begun his NBA career at 26 years old, gave him a unique connection with players and a chance to relay some of his knowledge to them. Being around those players fighting for their playing futures also reignited and reaffirmed his passion for pursuing his coaching career, as he found kindred spirits in his players. His Portsmouth Invitational squad dominated the tournament and won the championship, which Jordan was especially proud of and felt proved something about himself as a coach.

Curry was likewise a basketball journeywoman, playing in Europe as well as a stint with the Los Angeles Sparks in the WNBA. Like so many in the program, Curry was looking to prove herself as a coach, but also had the unique challenge of being a woman coaching men. However, Curry, who exudes confidence when you speak to her, says she didn't encounter any problems.
At the G-League Invitational, like Jordan, Curry found herself feeling connected to her players because they all there fighting for jobs and fighting to prove themselves to decision-makers in the league. That's part of what makes the Assistant Coaches Program work, as they pair coaches hungry to prove themselves with players looking to do the same, whether at the Portsmouth Invitational, Draft Combine, Elite Mini-Camp, orG-League Invitational.
Curry is hoping to follow in the footsteps of Becky Hammon, who became the first female assistant coach in NBA history with the Spurs in 2014 and has led the Spurs' Summer League squad the past two years. Curry hopes to meet Hammon and pick her brain one day about becoming an assistant in the NBA, but for now, Curry remains insistent (or possibly defiant, depending on the level of doubt against her) that her abilities and skills as a coach will shine through and lead her to a job at a high level soon, which is what she hoped her time in the ACP proved.
Stackhouse along with other former Assistant Coaches Program alumni over the years that have earned NBA jobs like Dell Demps, Monty Williams, Jacque Vaughn, Popeye Jones, and James Posey represent the success stories of the ACP. Plenty of others have gone on to get jobs at various levels from G-League to college, and Curry and Jordan hope to join them one day soon.
The best advice Stackhouse can give to those looking to join the coaching ranks as he did is pretty good advice for anyone looking to break through in any industry. He says the key is taking any opportunity provided to you at any level as a chance to prove yourself, pointing to his time coaching AAU ball and parlaying that into opportunities to coach at the top AAU tournaments in the U.S. and internationally.
The ACP is one of those opportunities that Stackhouse took full advantage of and a year later found himself on the bench as an assistant in Toronto. Now, he's looking to continue proving himself by going for a second straight G-League title and continue shaping the perception of himself as a coach by his performance rather than his name, and the way he's going, it wouldn't be a surprise if he finds himself back in the NBA in the near future, but this time as a head coach.