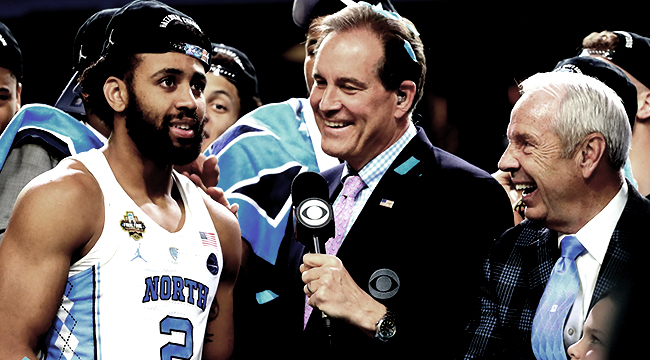 The Season of Nantz is upon us. Sports fans are in the midst of that magical stretch of the year where March Madness is followed up by the Masters and many of the biggest moments for a full month are backed by the dulcet tones of Jim Nantz.
Nantz has been the voice of CBS' top broadcasts in college basketball and golf for nearly 30 years now, taking over Masters broadcasts in 1989 and being the voice of the Final Four on television since 1991. His longtime partner for games was Billy Packer — with whom Nantz got a chance to reunite for breakfast while in Charlotte for the first round of the NCAA Tournament this year — before being joined by Clark Kellogg. He's now in a three-man booth with Bill Raftery and Turner analyst Grant Hill next to him and Tracy Wolfson on sidelines.
For Nantz, getting to work with Raftery again evokes memories of his start as a broadcaster in the NCAA Tournament. The two were paired together for Nantz's first tournament in 1986 for opening round games and later in the studio when he was just 26 years old. As Nantz jokes now, at the time he thought Raftery was "this really old, seasoned broadcaster who must be close to retirement." Thirty-three years later, they continue to share a booth as they prepare for the Final Four in San Antonio, which will be broadcast on TBS rather than CBS for the second time.
"It's amazing to think 30 some odd years later now, we're partners again," Nantz says of Raftery. "By the way, in that gap in between that we had the friendship was always there. He's always been a buddy of mine, and it's fantastic. This is the fourth year, though, of the reunion. It's just wonderful to be back together."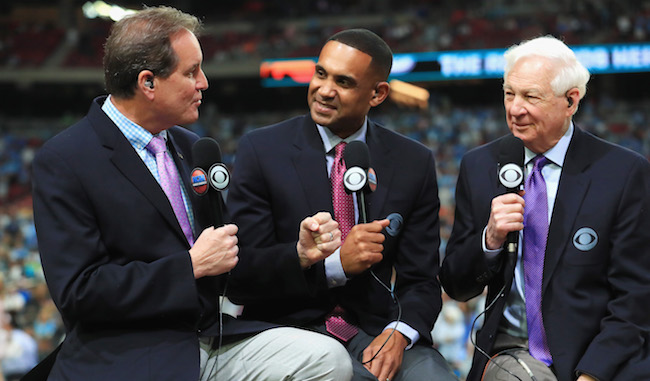 Nantz will also be joined by a longtime partner in the truck. Bob Fishman is working on his 36th tournament as lead director, which has included every Final Four in that run. This is the fourth year the whole crew has been together, from the truck to the commentating team. A continuity has formed that has allowed them to figure out the dynamics of a three-man booth without stepping on each other's toes, with the bottom line being, in the end, Nantz takes the lead in key moments.
"They know Jim leads the broadcast and they're smart enough to know that Jim has to take over in those moments," Fishman said. "When the play's going on, that's a different story, but when you come down to it, nobody should be talking in the last few seconds of a game. That's where the guys have to clear out and let Jim call the game. And then they come in on replays and everything, but he's gotta be the lead guy and you gotta let the pictures speak for themselves. They're pros and they get it, and I think after a few years together that certainly we've got it down to a pretty good pattern."
In speaking with Nantz prior to the first round, he walked me through his intense preparation schedule for the wild first weekend of the Tournament. He even went as far as to call it "the hardest week of the year." More than the Final Four, the Super Bowl, or the Masters, getting ready for six games involving eight teams requires the most effort out of Nantz and quite a bit of organization and dedication.
From the moment he finds out his assignment on Selection Sunday, Nantz lays his four boards out in his hotel — the call sheets that will be in front of him for each game, featuring information on both teams — and hops on the phone with Stu Millstein of CBS' research department in New York. Nantz works until 1:15 a.m. to get his boards prepared, giving him 3.5 hours to sleep before he heads to the airport to go back home to California. Once home, Nance had 45-minute phone calls with each team's sports information director to get more details and learn the backstories for players and staff.
That thorough approach pays off when the upsets that make March Madness such a unique event take place, as Nantz feels comfortable in his preparation to provide the viewer with more details into a team that may be unfamiliar. The duo of Nantz and Fishman have seen some legendary performances and all-time NCAA Tournament moments. Fishman is quick to defer to Nantz's memory when it comes to the best games they've worked, but both highlighted the joys of getting to be a part of the broadcasts for some major upsets in the past. (A few days after we spoke, the pair broadcasted the biggest upset in NCAA Tournament history when UMBC took down Virginia in emphatic fashion.)
"Well, I've had my share," Nantz said when pressed on first round upsets he's called that have stood out. "I think my biggest one was, I had one of the 15's over a two. It wasn't that long ago, but it was Lehigh over Duke. So that was the biggest upset I ever had. It was inconceivable to me at that time that Lehigh could beat Duke. Of course, that was backed up either a year or two later by Mercer beating Duke."

"You don't think going in that they do, but we might be on top of one of the great stories in the history of the tournament for all I know right now," Nantz said of his preparation for the games featuring 16-seed UMBC and 15-seed Lipscomb. "That's part of the process of being prepared to tell their stories the right way."
Nantz proved to be right, of course, and UMBC's win will undoubtedly vault up the list of tournament moments for both. When it comes to the Final Four, Nantz, ever the storyteller, can't help but go on and on. This is particularly the case when remembering some of his first Final Four calls, starting with Villanova-North Carolina and Duke-Butler in recent years.
"Those are the two," Nantz says. "I just got asked that by another reporter. I named those two. I went, of course, with recent history, which isn't really fair to what happened all those years before that. I've had a role in the NCAA tournament with CBS for 33 years now. My first play by play call [for the Final Four] was in '91 in Indianapolis. Undefeated UNLV came in and took on Duke in the semifinals, and Duke defeated them and went on and won the championship over Kansas. Duke, one of the star players being a talented freshman who now happens to sit next to me calling the games, Grant Hill.
"Going through the '90s whether it was that Kentucky team of '98 that had all these great comebacks, 17 down in the regional final at St. Pete to Duke to 10 down in the championship game against Utah. The comeback Cats of '98. They were thrilling to watch. There's just so many. My goodness, my head is just flooded with memories. Every single year has its own kind of scrapbook of memories for me. If we really just wanna isolate a year, I could give you hours on it.
"Take '93, for example, the 25-year anniversary of the Michigan-North Carolina championship and Dean's last national title. The timeout at the end of the game and all that we had in that Final Four. We had an incredible collection of powerhouses in New Orleans with Michigan and Kansas and North Carolina and Kentucky. That was an incredible night. That was an incredible Saturday for the semifinals. In '94, I was here in Charlotte and the game was played in an arena that no longer exists here. It was Grant's last college game, and I felt like had covered his whole career. I mean, I had. I called the two championships his freshman and sophomore years, and then he lost in the final.
"After we went off the air, I made sure to go by and find him and just tell him how much I respected him for what he meant to college basketball and how much I appreciated working with him and had done, of course, many interviews, attended many practices, and called a lot of games. Just how much the college game was gonna miss him. I didn't know our paths would ever cross again, but just wanted to wish him well. Of course, here I am in Charlotte now again with Grant 24 years later. We're sitting side by side for the fourth year calling the Final Four and the rest of the tournament."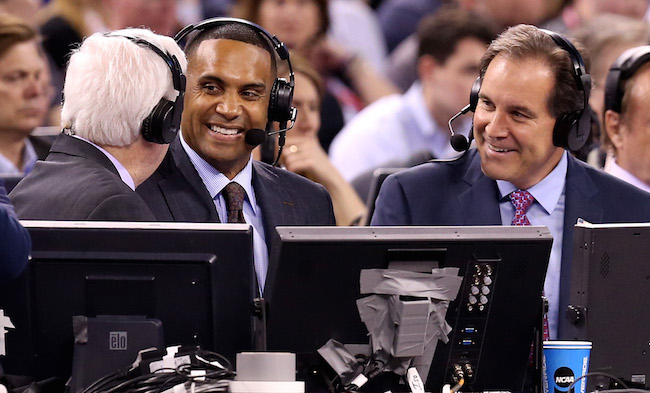 For Fishman, he was more reflective about lessons he's learned along the way about presenting what happens and remembering, above all else, the most important thing is to show people the game. Fans in the stands, player reactions and coaches reactions have their place, but Fishman said he prides himself on ensuring that when the ball is in play, he sticks with the main camera angle because that's the reason people tune in.
"So many directors in this business going back many, many years are so in love with all the equipment they have and they lose sight of what's the most important thing, and the most important thing is not to miss any live action," Fishman says. "I tell my guys, we don't cut to the crowd in the middle of a play, we don't cut to a coach in the middle of a play, we don't cut to cheerleaders in the middle of a play.
"Now, you can take some chances if the pace is slow enough to get in some close-ups, maybe of the guard bringing the ball up the court or a coach is going crazy on the sidelines because of a previous missed call, but there's a time and a place for those shots, and if you get a frantic, running game — you know, non-stop wall-to-wall action — you better stay on your one main camera because if you start trying to get in extra shots you're gonna be in trouble, you're gonna miss stuff, and I've seen plenty of that through the years and I've learned a lot because of that."
When watching this year's Final Four on TBS, you can be assured Fishman will make sure the camera stays on the court when the ball is in play, because that's what you're watching for. Nantz, meanwhile, will be well prepared to deliver a call that brings the appropriate amount of gravitas to the moment, before he makes the flight from San Antonio to Augusta to conclude the Season of Nantz.