Not everyone could possibly work as hard as Jimmy Butler. Chicago Bulls coach Fred Hoiberg just compared his star wing's drive and desire to those of Michael Jordan and Kevin Garnett. The league's reigning Most Improved Player has apparently been doing an extra workout in between his team's two-a-day training camp sessions, too.
By every past and present account, Butler's work ethic is an exception as opposed to the rule – exactly what you'd hope and expect from a player who shoulders the fortunes of his franchise more than any other. And that, apparently, is at least a partial source of his rocky relationship with Derrick Rose.
Joe Cowley of the Chicago Sun-Times spoke to a source who says Butler is less than pleased with the former MVP's commitment to hone his craft.
It was provided Wednesday, as a former member of the Bulls said in a phone interview, "Personally, the two are great. Professionally is where they have a difference of opinion.''

According to the source, Butler considers Rose a friend, but "doesn't have a lot of respect for his work ethic.'' In Butler's mind, Rose was considered the face of the franchise, and if the face of the franchise wasn't busting his butt in practice every day, especially last season, what was the message to the rest of the team?

"We all saw this coming,'' the source said.
Rumors of discord between Chicago's stars date back to last season. Both Rose and Butler have downplayed them at every opportunity in the interim, and the former even suggested last week that race accounted for the media trying to create fire where there wasn't even smoke.
Barring the Bulls winning a title, there's almost nothing that will change the narrative surrounding the relationship of Rose and Butler. But it certainly doesn't have to be a weekly talking point, either. The more reports that surface on this "story," the more believable it becomes – irrespective of sources refusing to speak on the record or the subjects denying any existence of a rift.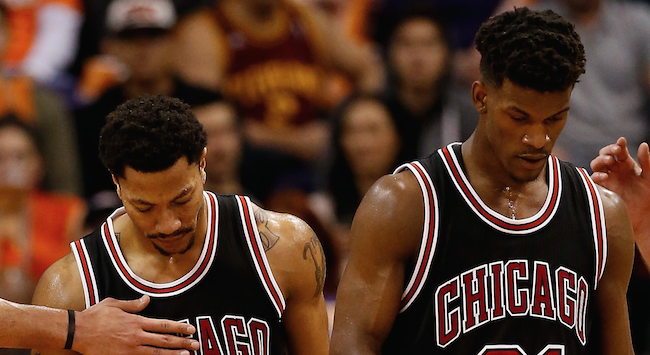 Frankly, we're tired of discussing whether or not Rose and Butler get along. Both players will be with Chicago for the next two seasons whether they always see eye-to-eye or not; this is a talking point for the summer of 2017, or perhaps when the Bulls bite the bullet on Rose's potential return to form and place him on the trading block.
Until either scenario comes to pass, the only rapport that needs to be considered between Rose and Butler is their on-court one. And given winds from Chicago of the team taking well to Hoiberg's ballyhooed motion-heavy offense, we're expecting it to be fruitful.
[Via Chicago Sun-Times]