The 2016 Olympics are just over one year away, and USA Basketball is already beginning preparations to defend its gold medal. According to Marc Stein of ESPN.com, USAB has invited a group of seven players that includes the Chicago Bulls' Jimmy Butler and Golden State Warriors' Draymond Green to next month's minicamp in Las Vegas.
Sources told ESPN.com that USAB has extended invitations to Chicago's Jimmy Butler, Memphis' Mike Conley, Golden State's Draymond Green and Harrison Barnes, Orlando's Tobias Harris and Victor Oladipo, and Utah's Trey Burke to its Aug. 11-13 camp on the campus of UNLV.
Managing director Jerry Colangelo also told ESPN that August's camp will serve as more of a "reunion" for national program members as opposed to a competitive tryout that will decide the roster for Rio de Janeiro. The proceedings will conclude with an "an all-star game of sorts" on August 13.
Of the players new to the Team USA pool, only Butler, Green, and Conley seem like semi-realistic candidates to make Mike Krzyzewski's 12-man team.
Barnes fits the mold of an athletic, versatile forward capable of defending multiple positions that USAB covets, but simply lacks the talent to be selected over more experienced players who are cut from the same cloth. Along similar lines, Harris hasn't shown the defensive disposition Krzyzewski wants from his cavalcade of multi-faceted wings. Oladipo, meanwhile, seems like a potential member of future Team USA squads, but still has growing to do before reaching his full potential. Burke, chosen for the Select Team last summer, should be treated as nothing more than a warm body used as deep insurance in case of injuries to the program's litany of options at point guard.
It's far too early to project the final team for Rio. Stars of the 2012 squad who opted against playing in last year's FIBA World Cup have yet to declare their intentions for next summer, while injuries – both existing and inevitable – are sure to pare down the number of available candidates in the pool from its current total of 41.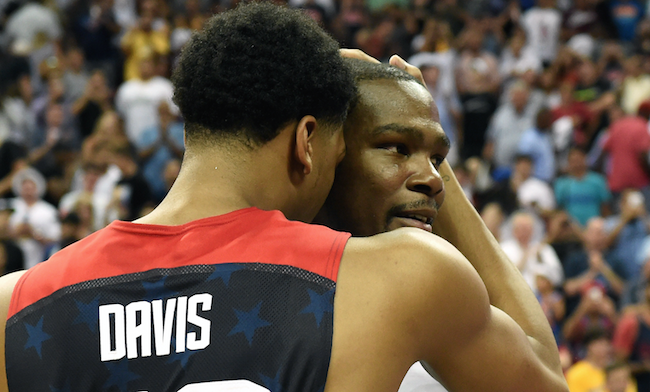 Assuming health, though, the following players seem like locks for the next iteration of Team USA: LeBron James, Kevin Durant, Chris Paul, Anthony Davis, Stephen Curry, James Harden, and Kyrie Irving. Considering his past success in international basketball as well as longstanding commitment to the national team, Carmelo Anthony is a good bet to make the final roster, too. Blake Griffin and Kevin Love are also strong candidates after both were sidelined by injuries leading up to last year's FIBA competition.
DeMarcus Cousins, Russell Westbrook, and Klay Thompson are others with Team USA experience who are likely selectees. It's also unknown whether or not Paul George will play well enough next season to warrant serious consideration, let alone if Colangelo and company will feel compelled to afford him a roster spot in wake of a devastating knee injury suffered while wearing his country's colors.
But all of that talk is premature, and will remain so even following the conclusion of next month's minicamp. For now, a congratulations is in order the to new members of the national program, even if odds are against any of them being chosen for next summer's Games.
[Via ESPN.com]