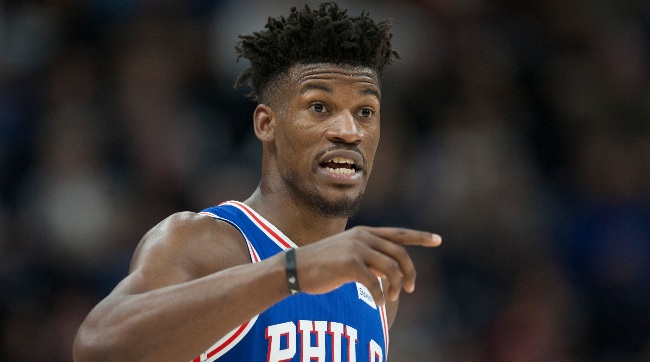 Jimmy Butler's free agency decision has loomed large ever since the Philadelphia 76ers traded to acquire him from the Minnesota Timberwolves. The question appeared to boil down to whether Philly would give him a five-year max contract offer, which Butler has been adamant he's wanted, or if it would give him less and lead to him testing the market.
We ultimately got our answer, but there's a twist. According to Adrian Wojnarowski of ESPN, Butler is headed to the Miami Heat in a sign-and-trade.
Both Wojnarowski and Shams Charania of The Athletic report that prized Heat wing Josh Richardson is headed to Philly in the deal.

The deal will also involve Butler getting a full four-year max contract from the Heat.
Despite the fact that he has a reputation for being a demanding teammate, Butler showed that he can be invaluable to a squad with championship aspirations during his time in Philly. He's always been known for being a stout defender, and while his scoring dropped off a tick after heading to the City of Brotherly Love, Butler was of crucial importance to the Sixers on that end of the floor. That was especially true in the postseason, when Philadelphia opted to put the ball in his hands to initiate the offense at times, especially late in games.
For the year, Butler averaged 18.7 points, 5.3 rebounds, 4 assists, and 1.9 steals in 33.6 minutes per game for the Timberwolves and the 76ers. Next up for him, though, is a challenge in South Beach, where he will be expected to take over for his pal, Dwyane Wade, as the face of the Heat organization.