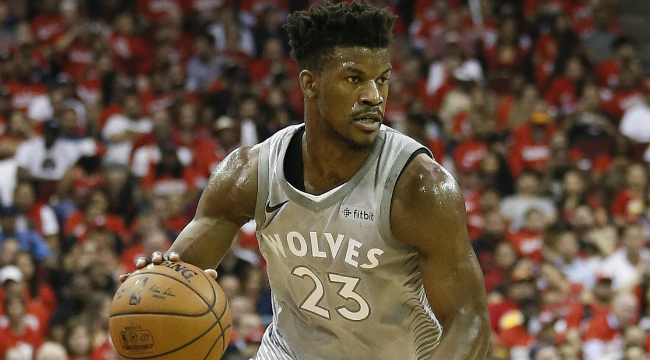 Tom Thibodeau is having an interesting summer putting together the next edition of the Minnesota Timberwolves, but suddenly, there are questions about whether that will include Jimmy Butler.
Butler is reportedly meeting with Thibodeau and other team officials about his future with the franchise, as the two sides apparently need to have an "honest discussion." The Athletic's Jon Krawczynski reported about the meeting on Saturday.
The report was soon confirmed by another Athletic source, Shams Charinia, who also confirmed those in attendance.

The news comes on the heels of a number of reports about tensions between Butler and the younger players in Minnesota, although it is unclear if the meeting has anything to do with that. Prior to this, Butler has often expressed appreciation for the situation in Minnesota and the chance to play for Thibodeau, for whom he played with the Bulls.
"It's good to be with my guy," Butler said of Thibodeau in an interview in January. "I'm happy."
Things may have changed in the intermediary months, however, as Minnesota was bounced in the first round of the playoffs. ESPN's Adrian Wojnarowski made it clear that "organizational issues" will be at the forefront of their meeting.
It's a suddenly tenuous time in Minnesota, and it sounds like Butler wants some changes made in some form. The risk, of course, is that Butler could jump ship this summer if things don't change, leaving Minnesota with Karl-Anthony Towns, Andrew Wiggins, and a bunch of former Bulls players if Butler wants out.