Not even 15 games into the season for the Chicago Bulls and sharpshooter Doug McDermott surpassed many of the totals from his rookie campaign. The former Creighton standout only saw the court in 33 games last year due to a minor knee procedure that derailed the start to his season. Couple that with the perception that his former coach, Tom Thibodeau, didn't seem to trust the rookie to execute the defensive schemes the Bulls had in place, and it wasn't the type of year many, including McDermott, envisioned.
What a difference a year makes.
'McBuckets' has come a long way from bringing the wrong donuts to teammates a season ago. What he has brought is the right attitude that is a succinct mix of confidence and humility endearing him to both his coach and teammates. He's become a vital part of Fred Hoiberg's new up tempo system by doing what he does best—shooting. He is third in three-point percentage and looks to have a secure spot in the rotation, but knows he'll have to show more to his game than the ability to knock down the trey. He took a few minutes to discuss the start to his sophomore campaign, what's made him a great shooter and just how good he thinks he can be.
***
DIME: You've seen a few things in a short time in the league and every team needs a leader. So, who's the leader of the Bulls?
Doug McDermott: We have a great veteran core who have been around each other for a while. I'd say the most vocal is Joakim Noah. It's just kind of his personality. He really gets after us and challenges us. I play a lot in the second unit and he's become the leader of that bunch, too, but everyone has a strong voice in the locker room.
Who are you closest to on the team?
I'm pretty close with Kirk Hinrich. We are both from Iowa — we played on the same AAU team growing up even though he is 10 years older. We know a lot of the same people, and I try to stick together with him following his lead because he's a great example for me to look up to.
What's been the biggest difference so far for you this year compared to last? Obviously you're healthier, but what are the other factors for you?
I'm just a lot more comfortable this year. Last year, I never really felt 100 percent. I had that knee procedure. I mean, it wasn't a huge knee operation, but whenever you're hurt and have to miss a significant amount of time, it's a little harder on you mentally. Obviously, being a rookie, I was still trying to figure everything out anyway. This year feels like more of fresh start for me — new coaches and new faces to work with every day. I just feel like I've benefited from that the most.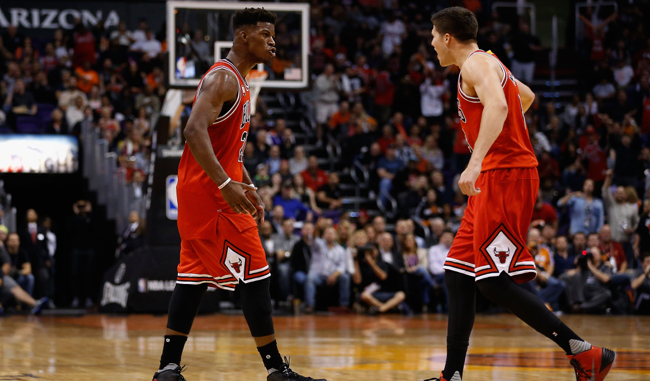 How did you use the summer to get yourself ready this season?
I worked really hard in the summer league in Vegas again. It's really benefited me because (Fred) Hoiberg actually coached our summer league team. That was really good for me to be around him and his staff. I also worked out with Jimmy Butler — who I really look up to a lot — in San Diego for a couple weeks there. We got some great work in and obviously he's improved his game even more, so it was good.
What part of your game do you still want to improve? You are already a good shooter, but where do you go from here?
The in-between game. Dribbling, pull-ups, being able to create more for myself and finish with contact. Obviously, too, I have to get a lot better on the defensive end. I pretty much feel like a rookie out there this year because I didn't play too much last year. You know, teams are coming at me because I'm young and my lateral speed isn't as great as it can be. But I'm getting better at it every day, so I just need to work on those things and I think I can have a good career.
At the time of this interview (this was conducted before Chicago's game against the Blazers on Nov. 24), 48 percent of your shots are coming from three and you are doing well in catch-and-shoot and pull-up opportunities. How much do you pay attention and incorporate analytics into your game in terms of shot selection?
It's all about getting good shots for me. I know I can shoot from anywhere on the floor—once I'm set. I feel like I'm really good shooter. I've studied a lot on where I have been successful and where I haven't been. I've carried that over to where I work on my game when I'm in the gym, and I think that goes a long way. We have great technology these days that allows us to be better on the floor.
Is there a veteran player in the league that you want to maybe pattern your game after a little? You said earlier you feel like you can have a good career, but would it be in the mold of anyone else?
I don't really compare myself to a lot of people, but I like looking at other shooters that maybe came in the league young and maybe even struggled a little bit. Guys like (Kyle) Korver who went to my college — Creighton. It took him a little bit to get established and he became an All-Star in, what, his 10th year? [Ed Note: Last year was season No. 12 for Korver.] Guys who can come off screens, like Klay Thompson. I really study his game and how he's able to get to the rim and how much better he has gotten from year to year. Other guys like Wally Szczerbiak who played back in the day. I think I could eventually become a player like him who can pick-and-pop or shoot the mid-range adding all that to my game, as well.
We've seen some great shooters in the league play a variety of different roles. From corner-three role players to elite star shooters like Steph Curry and Reggie Miller. Where do you think you will fall when all is said and done? Role player, All-Star, Hall of Famer? Without being modest, where do you think you will end up?
More than anything, I want to become a champion, and it's so hard to reach that milestone. There are guys who have played at a really high level for a really long time and still never won a championship. My buddy Harrison Barnes, who I played high school with, was fortunate enough to get one in his third year, and I'm so jealous of him. I want to be that guy that brings a ring back to my hometown and brings back that Larry O'Brien trophy. That's my dream, to be honest, and I feel like I'm a lot more than just a stand-still shooter. I think I am so much more than that, and I look forward to showing that as the years go on.
Well said. Putting you on the spot, who are the three best shooters in the game right now?
Steph Curry, obviously — he's unbelievable. We just played them the other night and he makes it look so effortless. I'd also take Korver because of his history, his streak and the records he's set. And I think I'm in there, too. I like to put myself in stuff like that because I'm a competitor, and I know I can shoot with the best of them. So, those are my three.
Okay, I like that. So, who are the three best shooters of all-time?
Oh, wow, all-time? Okay, Steph Curry, Reggie Miller and Ray Allen, probably. There are so many, though.
Well, I know you are more of a team guy, but sometimes in the course of a game, individual player battles break out. If you could have an in-game shootout with anybody in the league, who would it be?
Right now, I'd probably say the Splash Brothers (Steph Curry and Klay Thompson). I think that would be pretty fun.
You'd take them both on?
Oh yeah, I'd take them both on. I don't know how successful I'd be in their gym, but back in Chicago, I'd like my chances a little bit better.
What's the thing you focus on the most on with your shot? Is it the overall balance, the follow through, what's most important to you?
Just my release, to be honest. I feel the quicker I get it off, the better the chance it has of going in. I think my motion is real fluid, and I don't have any wasted motion. I just like to get it off quick and get it to the spot, but lately I really have been focused on my feet and balance. I feel like I pretty much have it mastered up top, but sometimes my legs don't land the way I want. So, that's where I have been focusing on a little more lately.
What's your most memorable shot of all-time?
In college, there were a few. In college, I hit a game-winner against St. Johns on our home floor that was pretty memorable. This year, I had one in pre-season against the Mavericks, and that was back in Nebraska where I played college, so that was pretty cool, too.
Well, you have the shooting thing down, but what's your most memorable dunk to date?
Wow. I'd probably say my first NBA game last year against the Knicks. I think I got kind of lucky—I had a little breakaway dunk. But for it to be at The Garden in a Bulls uniform, I'd have to put that up there. You know, there's not a whole lot of them, so I have a small sample size to choose from.
https://media.giphy.com/media/d2YVWWj6gtg0FreU/giphy.gif
Now Watch: Who Is The Better NBA Guard: Curry Or Westbrook?