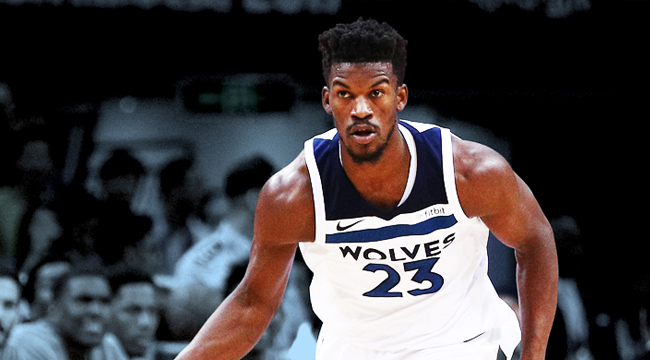 Before I could even say hello, Jimmy Butler knew where I lived.
Butler has a reputation for being a smart interview, but he might just be the most perceptive person in basketball. In fact, the first time I hear his voice on our call, he yells out "You from Buffalo, New York?" Turns out he recognized the area code, 716, from my phone number. He used to have one, too, because he had a teammate at Marquette, Lazar Hayward, who grew up in Buffalo.
Butler's vision and anticipation have paid dividends in his basketball career, especially this season as he gets used to a new city and a new team. His trade from Chicago to the Minnesota Timberwolves was the first in a long series of moves that rocked the NBA landscape this summer, but as the basketball world settles in for winter it's clear that Butler and the new-look Timberwolves will be a force in the Western Conference.
The former Marquette standout is a big part of that force, teaming up with Karl-Anthony Towns and his former coach in Chicago, Tom Thibodeau, in a bid to build a contender in Minnesota. He's still getting used to being the new kid in town.
Butler talked with Uproxx about getting comfortable in the Twin Cities, learning about his new teammates and the value of a familiar face behind the bench.
What's the first thing you did when you got to Minnesota?
I did my press conference and go to LA. (laughs) So I get traded, I'm in Paris with some basketball players that are much better than myself. And we come back and I do my press conference and seriously, we land, we do that, and then we go continue being human beings and enjoying the offseason.
So you weren't worried about where you were going to live or relocating all your things? What's that process like when you're going to a new team?
I mean, you can always find somewhere to live. The Timberwolves were at great at putting us in contact with the right people to find a home or whatever you need. They've been phenomenal with that.
But that was the least of my worries. I think the offseason is a time to not worry about any of that. To be a human being. Be a normal person. Have time to travel, have fun with your guys. And, you know, obviously still work out, but don't take basketball as seriously as you do throughout the year.
That time to recharge is definitely important for an athlete, but obviously there were a lot of rumors swirling about where you might be headed throughout the season that carried into the offseason. Did that get to you at all? How do you put that aside and actually relax?
In my crew, we know we don't talk about basketball. I have to deal with basketball all the time anyway, so after a game, good or bad, don't come in the car, don't come to the house and talk about basketball. I already know.
We don't read the internet because it's y'all's job as reporters to just write stuff for people to read and smile and talk about, so I don't really pay attention to that. I just control what I can control for the most part, so if I can get on a plane and go to Paris or Europe, that's what I'mma do. If I can go have a cup of apple juice, that's what I'm gonna do.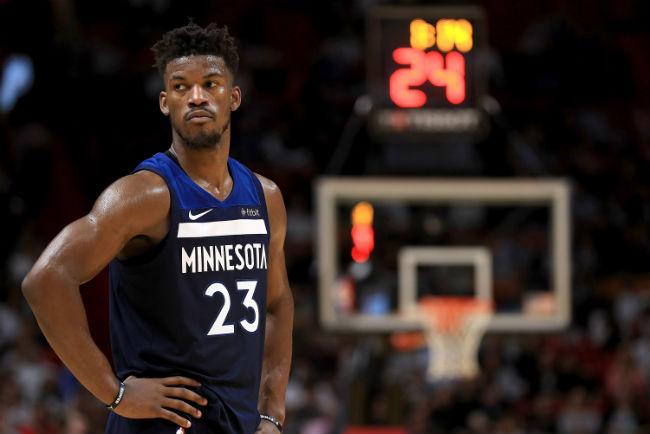 I cover a bunch of different sports, but basketball is definitely the most internet-savvy as far as players understanding how to use social media and getting their message across. It sounds like you've decided not to take part, but is it interesting to see how different players handle it all?
I mean, I just don't want everybody in my business all the time. That's why I don't do social media like that. If I wanted you to know where I was at and what I was eating, I would invite you out to dinner with me.
Some people are different, and rightfully so. Like, I think people really wanna know what LeBron is doing. They don't really care what I'm doing the majority of the time. So for them to use that social media in that reason, it's great for y'all in that y'all have the time and are really thinking 'Oh, how can I really shock the internet today?' Like, that's a talent in and of itself if you ask me. To know what to put out there that everybody's talking about, to basically break the internet. Yeah, I don't think I got that.
Christmas in the NBA is such a big deal, and you're playing on Christmas Day this year. Was it strange going from someone who likely watched those games to playing on Christmas Day?
I'm fortunate enough to have played on Christmas Day every year of my career so far. Well, not really played but my team has played. I think it's an honor to be able to play on Christmas: the whole world is watching. And to be able to go from watching to playing on Christmas is great. You know, your family gets to watch you play. And if you're lucky enough to play at home you get to have a Christmas at the house and then go try to win a game. I'll take playing on Christmas any and every year.
Getting ready for those games, does it feel different than other games? Does trying to fit a Christmas into game day change the way you approach those games or make them feel more important?
Not really. I go about every game the same way. On Christmas, I'mma go to church that morning, as well. Like, if it's a 7 o'clock game, which I think we actually have the late game on Christmas (ed note: they do) it's the same routine for me. Wake up, play some dominoes, read my bible, eat some chicken and some rice, go out there and compete.
It's a special day, but it's the same thing for the majority of us.
The NBA has a ton of new jerseys this year and you're on a new team. Do you have a favorite Timberwolves jersey yet?
I just want a black jersey. I think black jerseys are tough. They're not trying to let us shine with the black jersey, but that's OK though.
How was it getting to know some of your new teammates? I think the biggest personality on that team from the outside would be Karl-Anthony Towns. Is he as much of a character as he seems in commercials?
KAT's KAT. KAT is really young so some of the things he does… like, he really likes video games. I can't play a video game to save my life. But I was with Aaron (Brooks) today and he was telling me how he played video games. To some people, video games is it.
But KAT is an incredible human being. In basketball, his talents is up there with how great a human he is. So, is he funny? I mean, yeah, in his own ways. But can he beat me in a video game? I can't say that he can but if I'm betting I'm willing to put my money on him.
So I take it you're not an NBA 2K guy, then? I know a lot of players care about their rankings in the game and make a big deal out of it. You don't care?
I can't even spell 2K, let alone play it.
I know you just did a commercial with Kids Foot Locker, but you're not a stranger to acting. You were in Office Christmas Party last year. What was filming that like?
I like acting. I like the people I hang around with every single day so I get a lot of practice (laughs). I wanna do more movies, his summer I was in my first country music video. Vote for me for Video of the Year so I can go up on stage in Vegas at the AMAs.
The more acting opportunities I get the better I'll become at it.
I didn't know you were in a country video. Which one?
There's a lot of things you don't know about me! I like long walks on the beach, sitting out there after it rains, looking at rainbows…
It was me and Luke Bryant. It's called "Light It Up."
https://www.youtube.com/watch?v=3yyZ0UOZgcQ
Are you a big country guy, then?
I am. I'm a really big country guy. Me and Aaron. Aaron, do you like country? Yes, yes he does.
So you obviously have some history with your current head coach, Tom Thibodeau. How much easier do you think it was to adjust to a new team knowing the a lot of the coaching staff already there?
I mean, Thibs is Thibs. He's always working extremely hard. He always wants to win. You know what he expects out of you and everybody else. All in all, it's great just to be back with him because I've been with him I think my first four years, and I get to continue to have that success. It's good to be with my guy. I'm happy.
Does he have the same kind of approach to his job in Minnesota as he did with the Bulls? Do you think anything changed or evolved about the way he coaches a new team?
I think he goes about the game the same way. I just think he's added parts to his coaching repertoire. He smiles a lot more. He's asking about everybody's family and how they're doing, how their bodies are feeling. Which is important because you don't ever want to feel like you're just a thing that's there to do what they're asking to do. Like, you're a person like everybody else. Thibs realizes that and it's nice to see him interact with us as people and not just players all the time.
You mentioned that you're a little bit older than a couple of the guys on your team. What's the one thing you've learned as your career has gone on and that you like telling younger players as you become a veteran?
That everybody doesn't go about the game the way you do. The way that Karl does or the way that Wiggs (Andrew Wiggins) does. Whoever it may be. Everybody is different.
You have to accept that. Be able to find that common ground to where you all want the same goal but just go about it differently. If you realize that, that's when you start to become a better team. That's when you start to really mold and pull things in the right direction. So when you realize that everybody's different but everybody wants the same goal, that's how you become successful.