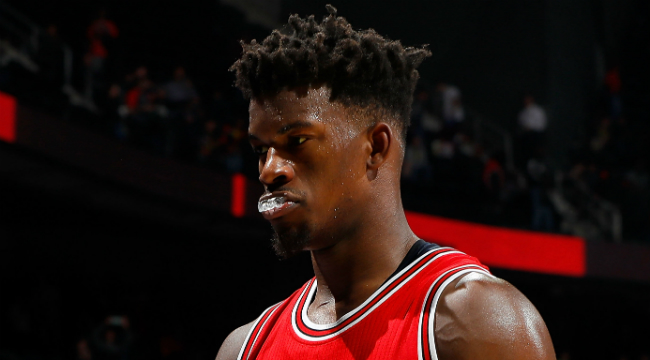 The Chicago Bulls are having a strange, mediocre season that could have been predicted based on their strangely non-shooting backcourt, and they're having unsurprising regrets about the way their team is put together. But according to Ric Bucher, the player they're looking to deal isn't Rajon Rondo or Dwyane Wade, two veterans with questionable value to contenders, but Jimmy Butler, easily their best player and signed to a long-term contract.
Though they have a stout defense in the frontcourt and some interesting young gunners in Doug McDermott and Denzel Valentine, you'd be hard-pressed to explain what the Bulls are building toward. Rondo or Wade would bring back little in a trade, meaning it would just be window dressing over an unchanged issue. They very much could be a team in need of a rebuild (anything to get better three-point shooting, really).
As good as Butler is, if the Bulls can get something like his real value in draft picks and young players, perhaps it's worth it to hit the reset button and try to build a real core.
Butler's coming off a recent 50-point game, and the 27-year-old is having another stellar season by individual standards. He's averaging 25.2 points, 4.5 assists, and 6.8 rebounds and is still in his prime. If the Bulls are dangling him, the return would have to be big, especially when you consider the fact that he his deal is a downright bargain compared to some of the deals that will be signed following the new CBA. Two-way players like Butler are rare – and rarer still under the age of 30 – and if the Bulls really are blowing it up, he's the one who would draw the biggest package.
That said, the question still remains about why the Bulls wouldn't build around Butler. Wade's homecoming, while a good story, isn't going to help the Bulls longterm. Butler can.
Of course, Butler trade rumors have popped up before, only to be denied forcefully by the Bulls' management, and any move for him would be pointless unless it brought back more than most teams are willing to give up, so the more likely scenario is him sticking around for a while longer. That said, if the phone lines are open, the Bulls are probably getting quite a few calls.
(Via Bleacher Report)