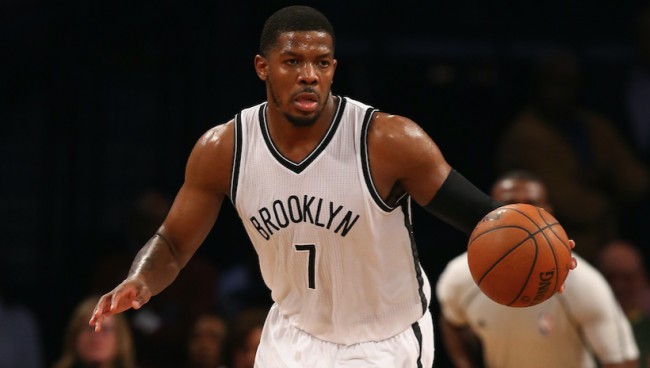 For a while there, it looked like it wasn't going to happen, but the Brooklyn Nets have officially bought out Joe Johnson's contract, allowing him to sign with a playoff contender in need of a veteran wing — an interesting list, according to ESPN's Marc Stein.
No matter where Johnson goes, he's going to have some fun in the postseason — way more than he was enjoying in Brooklyn, at least. So let's just go through those potential landing spots and imagine where Joe would fit, and see if we can find the best spot for him.

Atlanta Hawks: While they could definitely use Johnson's size and shooting on the wing (and it would be a hell of a homecoming, only without the albatross contract), something about Iso Joe in a Spurs-lite offense doesn't quite fit for us. On balance, it would probably still be a positive move, if only to push Tim Hardaway farther down the bench.
Boston Celtics: This would be fantastic. The Celtics have perimeter defense to spare, but they need someone bigger than Isaiah Thomas to create his own shot in crunch time when the playoffs come, and that might wind up as the first line on Joe's epitaph. Joe's calm professionalism would do wonders for a young but well-coached team that has ambitions on banging with the big boys.

Cleveland Cavaliers: Joe would be the most competent cagey veteran shooter the Cavs have had since LeBron James returned, far more playable than the likes of Mike Miller or James Jones. His size would create great switchability with James on defense, and if he's hot (like he's been for the past two months), spotting him up around a LeBron pick-and-roll would wreak havoc on defenses.
Houston Rockets: Johnson would immediately become the second-best three-point shooter on a team that depends on the long-range shot for their offense to survive. It would be a better fit if Johnson was a more vocal leader — the kind of veteran who could screw James Harden and Dwight Howard's heads on straight — but a starting five of Beverley-Harden-Johnson-Ariza-Howard would fit wonderfully with the kind of small ball they've been playing this year.
Miami Heat: The Heat need shooting desperately, and Johnson's more consistent from the outside than the streaky Gerald Green. Defensively, Green has more athleticism but less focus than Joe — it would probably be a straight upgrade for Miami, at the cost of some awesome dunks. Johnson's Brooklyn tenure has given him plenty of experience playing with teams that have major spacing issues, but with Chris Bosh's health once again in jeopardy, the Heat might not be the contender Joe's looking for.

Oklahoma City Thunder: Joe's not really much of a two-guard in today's NBA, but it also doesn't really matter – he'd be a huge upgrade on the ineffective Andre Roberson and Dion Waiters pairing during situational times when the Thunder needs defense and offense. Johnson wouldn't have the ball nearly as much as he's used to with Westbrook and Durant around, but he could be just what they need to make their offense less predictable in crunch time.
Toronto Raptors: Johnson would be mainly insurance in case DeMarre Carroll isn't back in time to contribute in the playoffs, but he'd slot along nicely next to Kyle Lowry and DeMar DeRozan. If the Raptors want to work around their deficiencies at power forward, they could also employ lineups that feature Johnson and Carroll as interchangeable combo forwards – which is how they finished games early this season before the latter went down with injury.

In the end, Johnson will simply have to decide what's most important to him. From here, it seems clear cut that Cleveland and Oklahoma City provide the most likely paths to a possible championship, and both clubs could really use him.
But if we had to pick a destination for Joe, it would be Boston. They would still be underdogs in the Eastern conference, but no team would benefit more from Joe's presence and all it entails. He's not the marquee star the franchise still needs long-term, but he'd go a long way toward answering their most persistent question: Who takes the last shot?