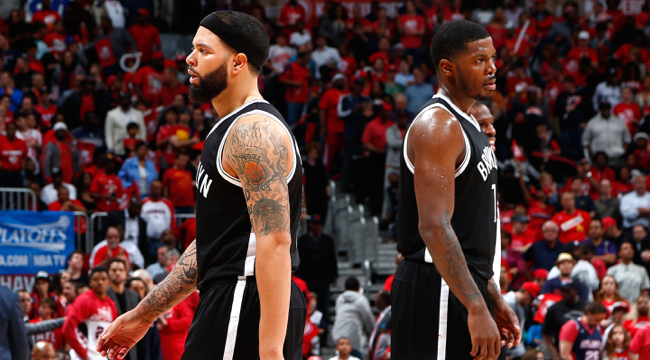 There are plenty of reasons for die-hard basketball fans to dislike Joe Johnson. For a player with seemingly all the tools — size (he's gigantic for a guard), strength (and not a wispy long, either), talent (such a pretty shooting stroke), and more basketball smarts than many give him credit for (he almost always posts up smaller defenders, especially in the playoffs when possessions become more important) — he seems to stroll through the game when everyone else is sprinting. That's a nice way of saying he can seem unengaged on the court, especially when you take his salary — he's in the last year of a six-year, $123.66 million deal, one that will make him the second-highest paid player in the NBA during the 2015-16 season — into account. And his seemingly ho-hum contribution leaves a lot to be desired for Brooklyn fans after the franchise hopped over the Hudson and East Rivers.
When Joe Cool was asked about former teammate Deron Williams and his recent buyout so he could sign with his hometown Mavs, Johnson's answer, via Roderick Boone of Newsday, offered surprise and a back-handed compliment about his current employer:
"What did he have, like two years left on his deal?" Johnson said Monday at Nets media day. "I don't know if he wanted the buyout, if they just bought him out. I don't know. I'm just saying if he wanted to get bought out, I don't think it was that big of a deal, that bad. That's just me." […]

"Honestly, I didn't know what was going to happen — if I was going to get traded, if he was going to get traded," Johnson said. "I didn't really know. But I didn't see that coming. I didn't see that coming, him getting bought out. I don't think it was that bad. It's not that bad here, so to be wanting to get bought out, I couldn't really put my fingers around that one.

"But I hear that he's happy, so that's the most important thing for him. He's back at home. So good for him."
"It's not that bad here" is exactly what people say when it's bad. They're downplaying their dislike. And with Paul Pierce in L.A. and Kevin Garnett back in the Minnesota tundra, the Armadillo Cowboy is left on his lonesome with Lionel (okay, they paid to re-up Brook and Thad) to try and carry the Nets to another playoff berth, which — to Johnson's credit — would be the third-straight such appearance since they acquired him in a trade with Atlanta. But, as his diction reveals, Johnson clearly doesn't find Brooklyn all that appealing.
The Nets have tried to deal Joe and his mammoth deal for a while now, but even in his last season, the spike in the salary cap after the TV-rights deal kicks in means there aren't many teams looking to shed salary by trading for Johnson and just letting him walk at the end of the season.
We sometimes struggle to find anything optimistic to add about some of the things we encounter in our attempts to bring you basketball #content, so we kinda know where Joe is coming from. (Well, that, and too much Schopenhauer before we were 25.) But as has been brought to our attention, that same sorta soporific attitude rubs off on teammates — and co-workers — so Joe should try and look on the bright side of things more often. We'll try and do the same.