Of the thousands of people to suit up for the New York Knicks over the decades the franchise has existed, few are as beloved as John Starks. The high-flying guard brought a toughness to a Knicks squad at a time when that defined the franchise, plus his story of going from bagging groceries to setting Madison Square Garden ablaze is unforgettable.
Even now, two decades after he left the organization, Knicks fans still turn out in droves to see the franchise's all-time leader in three pointers made. That was the case on Thursday afternoon, when Starks was at the center of an autograph signing at the NBA Store operated by Fanatics in New York City.
Prior to the event, Dime caught up with Starks to discuss the hard times the Knicks have fallen on, Kristaps Porzingis, and the team's decision to hire Pat Riley disciple David Fizdale as its new head coach this offseason.


Dime: It's been five years since the Knicks last made the postseason. What's gone wrong or what's been missing over these last few years?
John Starks: Obviously it's about getting the right mix of players in here. I think we have good management that's came in over the last year, so everything is about players, you know what I mean? We got some decisions we have to make in this upcoming draft, as well as with free agents, and let the coach do what he do.
It seemed like Knicks fans were pretty universally stoked to get David Fizdale this last season. Why do you think people were so excited for him?
Well he's a great coach. I think he did a good job when he was at Memphis and I think he got a raw deal with the whole [Marc] Gasol incident, and you know he has coach Riley's background as far as coaching from the whole time he was down in Miami. So he's gonna bring a little bit of that and he's gonna mix it up with his own style. We should be good.
I was gonna say, did you think that him being a Pat Riley disciple and that being the heyday of Knicks basketball, that was part of the reason why people were so excited?
Yeah. You know, we have to get back to being an aggressive, hard-nosed, defensive-minded team, and I think he's gonna bring a little bit of that. Obviously the rules have changed in today's games, so you know you have to be cognizant of how you play defense, but you still give the effort that you need to go out there and play a hard brand of basketball.
Do you think it's possible to play a tough, hard-nosed, grind-it-out style of ball when the rest of the league's trying to go small, trying to go fast, trying to jack up threes?
Yeah, you could play a little bit of it. Golden State does a good job of really having that '90s style mentality where they cover in front of everybody. They do a good job of doubling, but everybody knows where they're at on the court and know their assignments when they do come out of the double, and I think a lot of teams in this league don't get to that point where they understand how to play that brand of basketball. I think with Fizdale being a Riley disciple, we all know will get back to that.
Expectation setting in a place as demanding as New York can be kinda tough. Do you want Knicks fans to be patient, or do you think the only way this team's gonna get better is high expectations early?
Always high expectations. There's no low expectations here, no matter what, and Knicks fans got used to winning, especially during our era and in the seventies. So we expect to get those winning ways back, the heat is always turned up here in New York no matter what.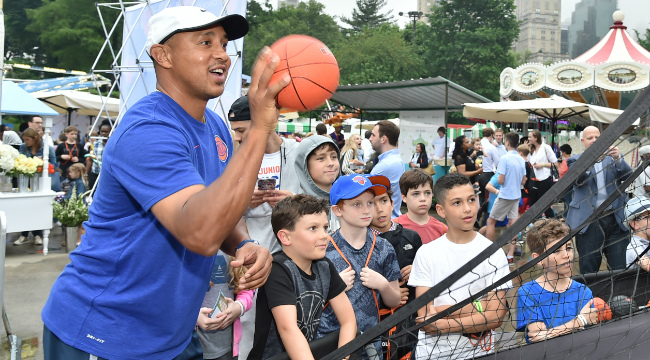 How would you sell to a free agent coming and playing for New York and playing for the team when it's been on such a prolonged playoff drought?
Well the team's in the greatest place to play, and it's the greatest opportunity that you can have and the biggest state that you can play on. And if you do well here, it sends shockwaves around the league, so I think any free agent, I would hope, would love playing a big market like this and play well.
You played with the best center in Knicks history, Patrick Ewing, so I wanna ask about the Knicks' current big man. What does Kristaps Porzingis have to do to go from one of the most unique players in the league, one of the league's biggest talents, to one of those five or ten best players on earth?
Just continue to grow his game, continue to get better, continue to work hard at what he does out there. This is a good offseason for him, obviously, he's coming off of injury so he has to make sure that he gets back healthy. Every player always comes back with something new, and I don't see him not coming back with something new because he's gonna have time to kinda assess his game, where he's at, and hopefully he comes back and is healthy.
What's that new thing that you think he adds to his game?
Well obviously he has to continue to get a little stronger, and he has the ability to do that. Work on his post-up game, and if he can do that and implement that in his game, it should be a good little fix for him.
I know you have a foundation that assists with high schoolers in Tulsa and New York with scholarships. Did you always know you wanted to do something like that after your career ended, and why is that cause so near and dear to your heart?
Well I started it during my playing days, so it's something that I had to take a opportunity of while I had a chance to do that. There's no better time to do it than while you're playing because you can get it started and really build it, and get it to a point where it continues to live on even after my playing days. I've been seeing a lot of guys start a foundation during their playing days and it's over with by the time their playing days are so I've been very blessed, I've been very fortunate obviously playing here in New York, in a very charitable city, like this city in the Tri-State area. You know, people just continue to believe in our mission and what we're trying to do for young folks, and so we wanted the team to keep that going with the support of our sponsors and we'll continue to come out and support May every year.