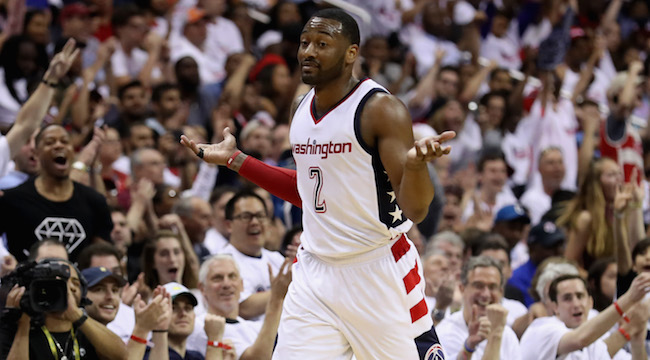 Since before free agency began in early July, the basketball world has known that John Wall held an ace in the hole. That trump card came in the form of a reported offer from the Washington Wizards on the designated player exception that would extend his contract and guarantee him more than $200 million.
Now, it appears as if Wall has chosen to accept that contract, as reported by David Aldridge of NBA.com.
It comes as no surprise that Wall would accept this contract, which brings him approximately $170 million in "new money" along with a fourth-year player option on the contract that can be exercised for the 2022-2023 season. Wall later announced his extension on UNINTERRUPTED.
This contract is similar to the one James Harden recently inked with the Houston Rockets, and it brings Wall into a financial stratosphere that few have ever reached in the NBA. As part of the contract, the All-Star point guard cannot be traded for one year, but in the same breath, this is the type of commitment from the Wizards that would signal Wall remaining as the centerpiece of the franchise for quite some time.
Since Bradley Beal and Otto Porter received lucrative contracts, Wall has not been the highest-paid player on his own team. This will rectify that beginning as soon as his original deal expires, and there is no question who "the man" is for the Washington Wizards.