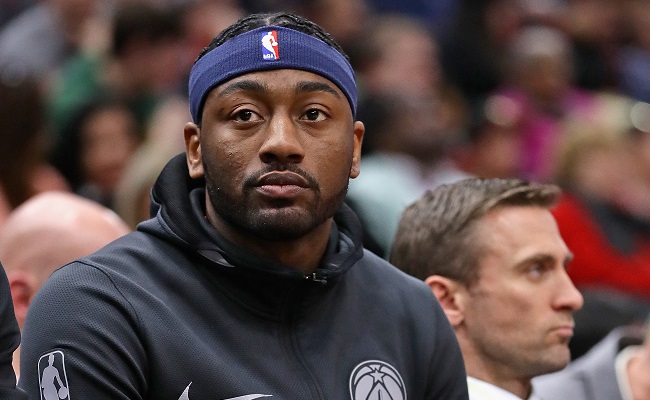 The Washington Wizards are playoff-bound and, with that in mind, the team's season-long goals remain attainable. With that said, the Wizards haven't lived up to expectations over the course of the campaign and that has been doubly true in the recent past, with 11 losses over the past 17 games.
That swoon has all but ensured that Washington will land near the bottom of the Eastern Conference Playoff pecking order when the postseason arrives but, in the meantime, John Wall has plans to "leave a statement" with two teams that Washington could be facing in the near future.
In speaking to Chase Hughes of NBC Sports Washington, Wall addressed the team's final four games and his plans for deployment.
"I want to play against the teams that are going to be in the playoffs," Wall said. "No offense to the teams that are not going to the playoffs. I want to play against Cleveland and definitely against Boston because those are who we might end up seeing in the playoffs. So, leave a statement there."
Washington closes with games against the Cavaliers, Hawks, Celtics and Magic and, according to the report, Wall is not expected to play on either back-to-back set. By proxy, that would mean that the All-Star point guard would rest against Atlanta and Orlando, especially if his stated preference comes to fruition.
Wall has battled a knee issue for much of the season and he has been limited to only 39 games as a result. While his raw production has been strong in some ways, it is clear that the now 27-year-old former No. 1 overall pick has taken a step back this season and, even if some of that can be attributed to health, it remains unknown as to whether Wall can lift his play to a new level when the postseason arrives.
Before that, though, it seems clear that he wants to test himself against playoff-quality competition and, at the moment, that does not include the likes of the Hawks and Magic. It will be interesting to see if Cleveland and Boston approach upcoming match-ups with the same intensity that Wall seems to be bringing but, if he gets his way, the Cavs and Celtics will be forced to deal with a full-strength Wizards team as they jockey for playoff positioning,