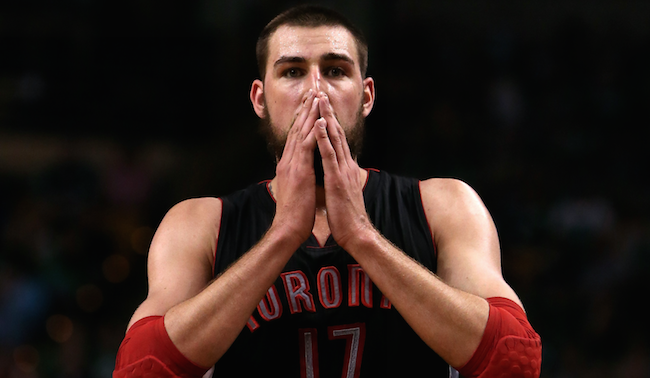 Next summer's crop of NBA free agents will reap similar and likely larger benefits of the rising salary cap than this year's did. Jonas Valanciunas, though, appears to prefer the peace of mind that comes with locking up a salary well over eight figures as opposed to hitting the open market in July.
According to Marc Stein of ESPN, the Lithuanian center is on the verge of a four-year contract extension with the Toronto Raptors worth some $60 million.
The Toronto Raptors and center Jonas Valanciunas are in advanced discussions on a four-year contract extension worth in excess of $60 million, according to league sources.

[…]

Doing a deal now, meanwhile, would bring a measure of security for Valanciunas heading into the EuroBasket Tournament with his native Lithuania next month. Lithuania coach Jonas Kazlauskas announced Monday to local reporters that Valanciunas is briefly leaving the team to return to Toronto for a physical and to finalize the deal.
If he reaches an agreement with Toronto before the late October deadline for extensions, Valanciunas will become just the third player of the 2012 draft class – along with All-Stars Anthony Davis and Damian Lillard – to ink new agreements. He isn't on either player's level when it comes to name recognition, obviously, let alone overall impact.
But despite that reality and his relatively underwhelming performance in 2014-2015, the Raptors have major incentive to sign him long-term regardless – especially at a cap number this relatively low.
Valanciunas has at times proven an awkward fit in Toronto on both ends of the floor. His traditional back-to-basket style doesn't mesh with the Raptors' gunning, slashing offensive ethos, and he's yet to show consistent ability to corral pick-and-roll ballhandlers or act as a major deterrent at the rim. It's no coincidence Valanciunas played just 292 total fourth-quarter minutes last season, and even stayed on the bench entirely for the final stanza of 23 regular season games. Dwane Casey, frankly, just hasn't found the best way to utilize his talents.

That doesn't mean Valanciunas isn't equipped with many valuable ones, however. He shot a stellar 51.3 percent on post-ups in 2014-2015 according to Synergy, and showed growing comfort making plays as a ball-screen finisher. There are only so many true 7-footers who knock down nearly 80 percent from the free-throw line, too. And Valanciunas just turned 23! There's still major room for improvement here.
Toronto knows that, and so does the rest of the league. If GM Masai Ujiri allows the big man to become a restricted free agent next summer, there's a good chance a competing team would offer Valanciunas a near max-level deal – if not the full amount allowable. Current fit be damned, the Raptors are in absolutely no place to lose an asset like him so early in his developmental arc. Approximately $15 million per year seems a lot in a vacuum, but the salary cap is evolving well outside of it.
Bottom line: This deal would be close to a steal for the Raptors as the cap skyrockets well above $100 million for the 2016-2017 season. And with a core player like Valanciunas in place for the long-haul, Toronto could finally begin to develop the lasting identity its lacked for so many years – as long as its comfortable bending to appease his unique ability.
(Via ESPN)