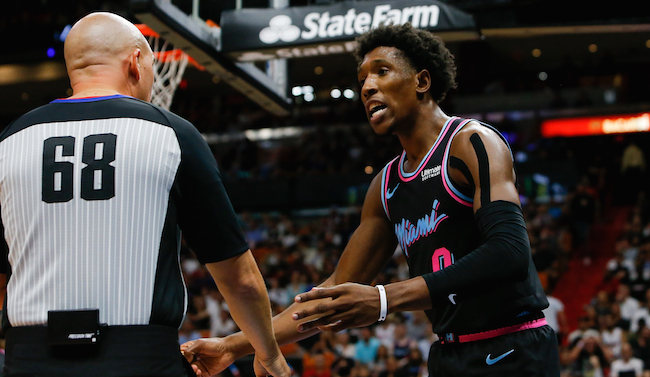 Things did not go well for the Heat in Miami on Sunday evening as old friend LeBron James came in and nearly put a fifty burger on their head. The Lakers led by double-digits for the majority of the game after running out to a 34-21 first-quarter lead, and by midway through the fourth quarter frustrations were high for the Heat.
Josh Richardson was the leading scorer for Miami with 17 points in 25 minutes, but he earned an early trip to the showers by the referees after losing his cool and launching his shoe into the crowd.
Richardson felt he was fouled on a dunk attempt and had a legit gripe, and when he came down, he took his shoe off to try and adjust it while the play continued — resulting in a Heat basket on a JaVale McGee goal-tend. As LeBron James handled the ball for the Lakers on their ensuing possession, Richardson aggressively fouled James and continued to bark at the officials before being sent to the bench by Erik Spoelstra as he continued to try and fix his shoe. At that point, he launched it into the crowd.

The NBA does not take kindly to players throwing anything into the crowd, so it's no surprise he was ejected for this outburst and he can be all but assured a fine is coming his way. It was especially tough for the Heat who were in the midst of a 12-4 run to cut the lead to single digits, and losing Richardson meant losing their best scoring threat — hence Spoelstra's frustration with his young star guard.