Kentucky big man Karl-Anthony Towns is quickly becoming the consensus top player in the 2015 NBA Draft. An absolutely insane pre-draft workout video that surfaced recently showing off his terrifying combination of size and skill helped cement that.
But there's still some question as to whether the Minnesota Timberwolves might opt for Duke center Jahlil Okafor when they pick first on Draft night at the Barclays Center in Brooklyn next Thursday. Towns, for his part, says he'll be happy either way. After all, if he does fall to number two, that'll likely mean he'll be paired up with fellow Wildcats alum Julius Randle on the Los Angeles Lakers. Playing alongside Kobe Bryant wouldn't be so bad either.
In the meantime, Towns has been in Los Angeles working out with former UCLA star Don MacLean to help round out his game. At nearly 7-feet, Towns already has the tools to transform into the type of big man that the modern NBA salivates over: he's an athletic freak who can play and defend multiple positions and stretch the floor with his shooting ability.
He might not (yet) have the type of polished post game that Okafor has, but he has great footwork in the post and a nice soft touch around the rim. He also has the type of explosiveness that could potentially help him evolve into an elite rim protector for years to come.
But Towns is also just a 19-year-old kid who loves video games. And one of the perks of being a future NBA star is that your favorite video game makers might invite you to E3 (Electronic Entertainment Expo) to bring some star power to the launch of their new offering.
That's exactly what happened to Towns as he helped man the E3 booth for the makers of Call of Duty this week in anticipation of their new release Call of Duty: Black Ops 3, which comes out November 6. We caught up with Towns via telephone Tuesday to talk about this favorite video games, the NBA Finals, the upcoming NBA Draft, the evolution of big men in the modern NBA, and much more.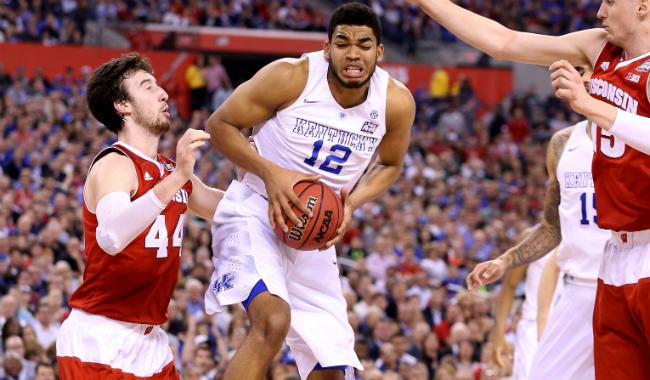 DIME: This must be an exciting day for you, getting to spend the afternoon behind-the-scenes at the Call of Duty development studios.
Karl-Anthony Towns: I've been having a blast playing the new Black Ops 3. It comes out November 6. It's gonna be really great. It's awesome to play a game that I've grown up playing.
How long have you been playing COD?
I've been playing Call of Duty ever since it came out. I'm honored and privileged to have a chance to represent the new Call of Duty. It's probably gonna be one of the best Call of Duty's to date.
What was the most surprising or impressive thing that you saw behind-the-scenes today at the development studio?
The weirdest thing I saw was the way they decorate it. It was pretty awesome, pretty weird the way they do it. Today, I think the coolest thing was seeing just how big Activision really is. It's huge, and seeing the way they decorated it. It's awesome.
What are you looking forward to most in this new edition of the game?
The biggest thing that I'm looking forward to is zombies. It's like, we all wanna see zombies. The more zombies the better, and Black Ops  is obviously the originator of the zombie game mode, so you expect nothing but just greatness from the zombie game mode. They've already delivered so much on the multiplayer side that it's gonna be a great game, and when you see how well the zombies are gonna come out, and how great a multiplayer it is already, like I said, expect this game to be the best Call of Duty to date.
Are you a big gamer, in general? What other games do you play?
I'm a big gamer, Call of Duty being my favorite. I also love playing sports games.
Switching gears a little bit, obviously the Draft is coming up, and this is a big moment in your life and career. Coach Cal (John Calipari) has helped usher in a new wave of big men the past few years – Anthony Davis, Nerlens Noel, Julius Randle, and now yourself – what kind of advice has he given you through this process?
Just telling me that, you know, keep working on my game. Continue to get better every day, continue to improve. You just need to continue to prove yourself, and I'm willing to do that, and I'm ready to do that.
Several of your teammates have also declared for the draft – the Harrison twins, Willie Cauley-Stein, etc. That must be a pretty cool experience for you and your teammates, so what kinds of things have you guys talked about in terms of all the excitement and anticipation of Draft night?
What we've talked about mostly is just how excited we are to have this opportunity, and how awesome it is to think that just a couple of months ago we were playing together in the NCAA tournament.
Draft night fashion choices are obviously a big part of the whole experience, so do you have a draft suit picked out, and are you gonna go bold with it, or a little more conservative?
When you're with a player like Willie "Trill" Cauley-Stein, you tend to be more bold with it, so I wanna be more bold. I wanna be more out there so I can't wait to just have fun on that night. It's supposed to be all stress, but I can't wait to have fun.
Turning more toward basketball preparation, one thing I've noticed watching some of your workouts recently is just how much your handle has improved, your jump shot as well. You were already a good shooter, so what's been the key to improving your handle?
It's something I've always had in my pocket, but I've shown very little glimpses of it at Kentucky, but it's always something I've had in my pocket, and I've continued to work on it all year. It involves a lot of work. Ball-handling is gonna be key, just to be able to be one of the best dribblers on the team and be the best shooter on the team. I just wanna be the best I can possibly be for my team, and ballhandling is a key essential to that. It's fundamentals that I should be able to do at any given time.
You've been working out with former UCLA star Don MacLean. What have you picked up from him?
The biggest thing he's really taught me is how to use the pace of the game more, how to change my pace when making moves. It's helping a lot. It's gonna help me a lot at the next level, it's gonna help me play better, and I can't wait to just start playing basketball and start improving.
Most draft boards have you going either one or two. A lot of people think you're probably gonna go number one overall. In terms of the Timberwolves and Lakers, do you have a preference? Can you talk a little bit about why either of those teams would be an exciting opportunity?
For me, either team. It doesn't matter. I'm just gonna be blessed to have the opportunity to play at the next level. You grow up as a kid and you just wanna play basketball. And I'm gonna possibly have the chance to play at the highest level possible. It's a blessing, and I can't wait to see what my future holds.
You opted to forego the private workouts but decided instead you would hold individual meetings with the Wolves and Lakers. What did you hope to learn from those meetings?
I never really said anything about that. I don't know how it was reported. But in the meetings, you know, I just wanna learn more about the teams, see how it goes, just learn more history about the organizations, and learn how the organizations are run. That's really it. I just wanna be able to see how everything runs and see what we can do together to win a championship.
In your mind, what makes you the top player in the 2015 NBA Draft?
You know what, no matter what happens, we have so much talent in this draft, it's gonna be good. And I think that I just work hard on my game, try to give the team the best opportunity to win a championship. That's really the biggest thing. Try to sacrifice for the better of the team and not just for myself.
The other top player in the draft, Jahlil Okafor, is someone you've played against over the years. What makes him such a special talent, from your perspective?
Tremendous footwork. A great low post scorer. He uses his body. He's just a great player. He's a good friend of mine, actually. He's absolutely a great player, and I really respect his game and admire his game.
For the past couple of years, particularly in these NBA Finals, there's been a huge pendulum swing toward big men like yourself who can stretch the floor with their shooting, defend multiple positions, etc. Is that type of versatility something that's almost become a necessity in today's game?
I just try to be the best player I could possibly be. I just was always ready to be a versatile power forward, be able to play guard and be a big guy. The league is definitely changing. Actually, the league's not even changing. We are changing. I'm looking at seventh graders jumping out the building. We're getting more athletic, we're getting more agile, quicker, faster. It's just the way it is. I just think that the league is changing. But with the players we have in this draft, we could also bring back some old-school flavor to go along with some new-school flavor.
[Ed. Note: this conversation took place on Monday, before the NBA Finals had concluded]
Do you have a favorite in the Finals?
Nah, I don't have no favorite. I just love watching the Finals. This is one of the most entertaining Finals we've had.
Who've been your favorite players to watch in the Finals so far?
I just love watching the Finals. We are admiring… [keeps getting distracted by the soccer game he's watching]… oh, that's a score. Shoot it! Oh my god. Oh my god. We all admire watching LeBron put on one of the greatest Finals performances ever. I'm having a lot of fun watching everyone. I'm having fun watching LeBron get triple doubles and having fun watching Matthew Dellavedova having a cool Finals, having a breakout Finals, having fun watching Tristan Thompson grab almost every rebound. Stephen Curry's shooting the last two games has been absolutely marvelous. Klay Thompson's shooting. Draymond Green. Andre Iguodala is having an MVP-type performance. It's just entertaining. Everyone is having a blast.
Growing up, did you have someone who you modeled your game after, someone who you wanted to try and emulate, someone who gave you inspiration as a player?
One of my favorite… Oh my god! [distracted again by soccer game], one of my favorite players was Len Bias, so I really enjoyed watching him play and adding some of his elements to my game, but the big thing with me was that I always wanted to be my own player, so I always took a lot of different flavors and then added it to my own game. Len Bias, Hakeem Olajuwon, Tim Duncan, Kevin Durant, Sam Perkins, Sam Bowie, Michael Jordan. I love Magic Johnson. Gary Payton. I loved a lot of players growing up, and I just want to try and be myself but also use what made them great to my advantage.
What's something about yourself that our readers might not know?
I quit basketball my seventh grade year because I wanted to be a baseball star. I love baseball.