Kentucky big man Karl-Anthony Towns is quickly becoming the consensus top player in the 2015 NBA Draft. An absolutely insane pre-draft workout video that surfaced recently showing off his terrifying combination of size and skill helped cement that.
But there's still some question as to whether the Minnesota Timberwolves might opt for Duke center Jahlil Okafor when they pick first on Draft night at the Barclays Center in Brooklyn next Thursday. Towns, for his part, says he'll be happy either way. After all, if he does fall to number two, that'll likely mean he'll be paired up with fellow Wildcats alum Julius Randle on the Los Angeles Lakers. Playing alongside Kobe Bryant wouldn't be so bad either.
In the meantime, Towns has been in Los Angeles working out with former UCLA star Don MacLean to help round out his game. At nearly 7-feet, Towns already has the tools to transform into the type of big man that the modern NBA salivates over: he's an athletic freak who can play and defend multiple positions and stretch the floor with his shooting ability.
He might not (yet) have the type of polished post game that Okafor has, but he has great footwork in the post and a nice soft touch around the rim. He also has the type of explosiveness that could potentially help him evolve into an elite rim protector for years to come.
But Towns is also just a 19-year-old kid who loves video games. And one of the perks of being a future NBA star is that your favorite video game makers might invite you to E3 (Electronic Entertainment Expo) to bring some star power to the launch of their new offering.
That's exactly what happened to Towns as he helped man the E3 booth for the makers of Call of Duty this week in anticipation of their new release Call of Duty: Black Ops 3, which comes out November 6. We caught up with Towns via telephone Tuesday to talk about this favorite video games, the NBA Finals, the upcoming NBA Draft, the evolution of big men in the modern NBA, and much more.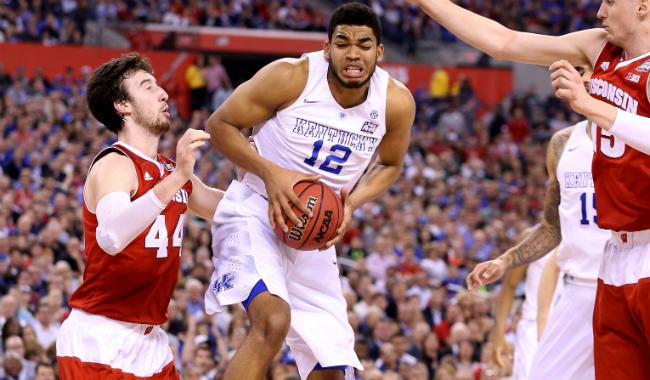 DIME: This must be an exciting day for you, getting to spend the afternoon behind-the-scenes at the Call of Duty development studios.