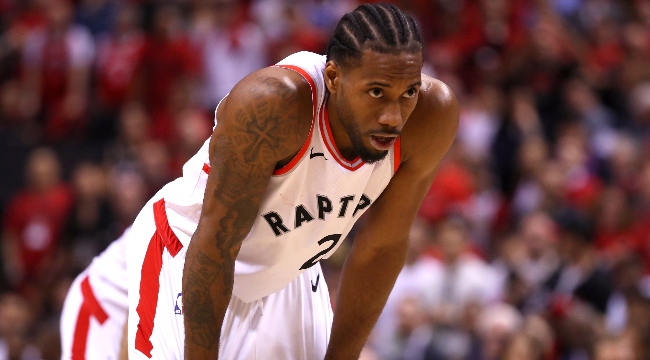 It's been just over a week since the Toronto Raptors won their first championship in franchise history by toppling the Warriors, but it's starting to feel like ancient history as the NBA Draft has come and gone and the basketball world is ready to shift gears once again to free agency, which gets underway on June 30.
So much of the talk has centered on Kevin Durant and Kyrie Irving, as their futures are rumored to be intertwined in various hypothetical scenarios — mostly orbiting the NYC area. But the man who helped deliver Toronto its historic title is also among those coveted players who will, at the very least, test the waters this summer.
On Sunday, Kawhi Leonard officially declined his player option with the Raptors for the coming season, which makes him an unrestricted free agent and thus eligible for a larger payday, with Kawhi reportedly leaning heavily toward returning to the team that traded for him last summer.
Via Chris Haynes of Yahoo Sports:
Toronto Raptors star Kawhi Leonard will decline his 2019-20 player option worth $21.3 million to become an unrestricted free agent, league sources told Yahoo Sports.

***

The Raptors are the only team that can offer Leonard a max contract for five years and $190 million.

Leonard, 27, is believed to be seriously considering re-signing with the Raptors, sources said.
But the max deal isn't the only option on the table for Kawhi. According Marc Stein of The New York Times, he can sign the type of short-term deal that both Durant and LeBron James have done in the past to keep their options open and give them leverage without committing to a multi-year deal.
One prime option for Kawhi, remember, is signing a two-year, $70 million deal with Toronto — with a player option in Year 2 — that allows him to run it back with the Raptors for one more year and do this all again next summer

— Marc Stein (@TheSteinLine) June 23, 2019
That may not be ideal for the incumbent Raptors, but it may end up being the best they can get. Before getting traded to Toronto, he was clear about his preference to return to his hometown of Los Angeles, though there's been some discrepancy about whether that means the Lakers or Clippers, with most recent signs pointing to the Clippers as the odd-on favorite outside of Toronto. From now until June 30, the speculation will continue to run rampant.