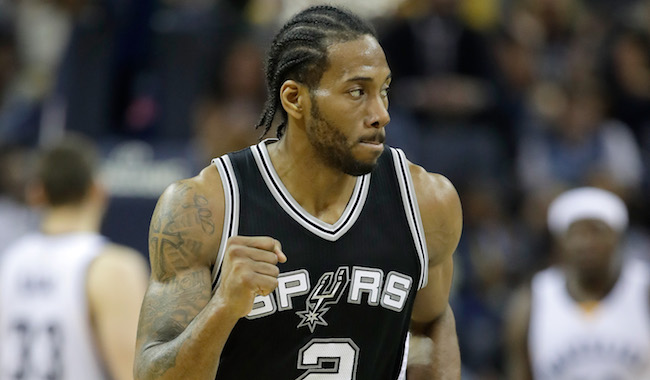 The San Antonio Spurs have managed to stay afloat in the absence of Kawhi Leonard and the team's performance has been both admirable and impressive at the outset of the 2017-2018 season. Still, it would be difficult to predict the Spurs being a top-four team in the Western Conference without the team's superstar and, as a result, anticipation for Leonard's quadriceps injury has been palpable in recent days.
On Monday evening, Leonard broke something of an anticipated silence in addressing the media and, while he was not overly flowing with optimism, his comments revealed that an on-court appearance could be coming "soon."
"I think they told you I've been playing 5-on-5, so that's where I'm at right now," Leonard said. "It's been good. Still just gotta go through a few more processes doing that and should be back soon."
Spurs head coach Gregg Popovich told ESPN prior to Monday's game that he "would be asking all the time" if in the position of a media member (or even a fan) and it simply can't be overstated just how crucial it would be for San Antonio to have an MVP-caliber player back in the fold. In true Spurs fashion, though, nothing in the process will be hurried and the fact that Leonard spoke publicly can only be construed as a positive development for both player and team.