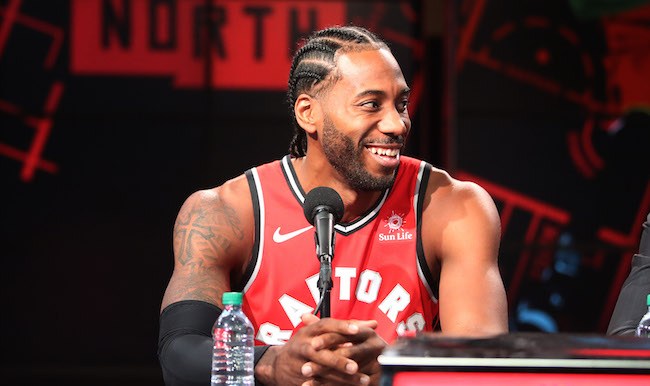 Kawhi Leonard is rarely one to make headlines for things he says, simply because he rarely says anything at all.
Leonard's media availabilities typically feature him answering with succinct responses that are maybe usable in a game story, but are never going to have reporters rushing to get quotes out on Twitter. His soft-spoken nature makes him something of a mystery, because we really don't know a ton about him. So, when he arrived in Toronto for media day last week, one of the first questions for Leonard was what he'd like Raptors fans to know about him.
Leonard responded by saying he's a fun guy but said he couldn't really elaborate unless he was asked something more specific, noting he couldn't even see the reporter. It was then that he unleashed a hearty laugh, which, maybe for the first time in his career, caused him to become a meme.

On Tuesday, Leonard and the Raptors were back at practice and he was asked about the widespread response to his laugh, which included his laugh being spliced into various videos. Leonard said he wasn't surprised people were talking about it, because he's a big star, but said he hadn't seen any of it because he doesn't have social media.
There are a lot of athletes that insist they don't read about themselves or see anything on social media, but Leonard is one of the few where I fully believe them. Now, most of them probably aren't doing the full Kevin Durant sit down and read everything people are saying or tweeting or Instagram commenting about you, but I believe most athletes that say this are a lying to the extent that they're at least typically aware of these things.
Leonard, however, seems like someone that would be legitimately oblivious to anything happening on social media and beyond. Still, hopefully Kawhi continues to give us a peek inside his world and continues to laugh because, while initially startling, it's nice to see him having some fun in a public setting.