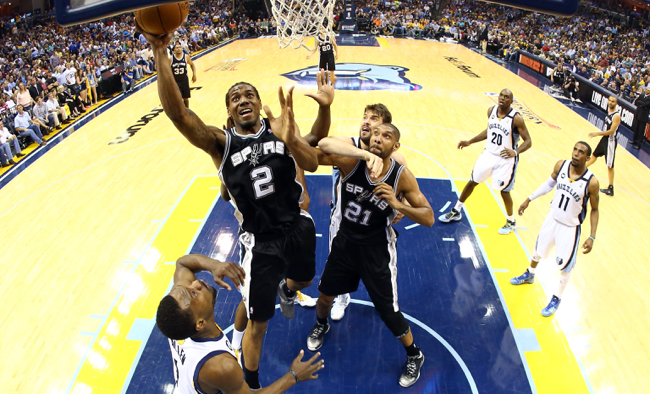 The San Antonio Spurs gave up the fewest points per possession in the 2015-16 season. So much so, their defense is just as mind-melting as Golden State's offensive fireworks this year. It should be no surprise, then, that Spurs forward Kawhi Leonard, a major catalyst for this defensive effort, earned the league's Defensive Player of the Year honors. (Clearly, the NBA took a page from Dime's postseason awards.)
Here's the full break down of the voting. Leonard gained most of the first-place votes, but Draymond Green was his biggest competition and by far the closest in total points:
To be sure, Green had a legitimate case. Statistically, he was every bit as good, if not a little better, than Leonard. The main difference is that Green simply had more opportunities — far more, really — to show off his defensive chops. Leonard, to make a football comparison, was more of a shutdown corner type in which the opposing quarterback didn't even throw to his side of the field. That's why he's #KawhiIsland is a thing (just like — Darrelle — #RevisIsland is in the NFL).
The even bigger story as it relates to historical significance is that Leonard earned back-to-back kudos despite not being a big man. As noted by the NBA, Leonard is now the "first non-center to earn the honor in back-to-back seasons since Dennis Rodman in 1989-90 and 1990-91." He's also the first wing in over than 30 years to win back-to-back DPOY honors since 6-foot-4 Sidney Moncrief won the first two DPOY awards in NBA history ('83 and '84).
On top of that, Leonard has won multiple DPOY honors and Finals MVP honors. The only other league player to do that was Hakeem Olajuwon.
Accolades alone tell you that Leonard is in fact on his way to becoming one of the best defenders to ever pass through the league. That he's a wing is fascinating in and of itself. That he's merely touching the surface of his career, is even more incredible.