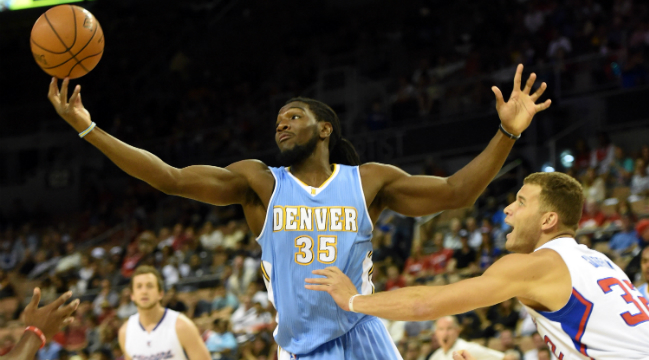 One of the NBA players you often hear Nuggets forward Kenneth Faried compared to is ex-Chicago Bulls and Detroit Pistons star Dennis Rodman. This comparison mostly stems from the fact that both players are superb rebounders and high-energy players, but it has a major flaw: Rodman is one of the greatest defenders of all time, while Faried still has a lot of room to grow on that side of the ball.
In fact, Faried is cognizant of the fact that his defense needs to improve. The Nuggets' star big man told the Denver Post that one of his top priorities this offseason has been working on his defense; in fact, he wants to be the league's top defenders some day.
Kenneth Faried hears all the noise, but he didn't need to. He already knew what he had to work on this summer.

"My defense, I've focused on that," Faried said in a phone interview from Johannesburg, where he played in NBA Africa Game 2015 on Saturday. "I've been watching film on guys that I consider my toughest matchups, and I've been able to dissect them so that when the season comes around I'm able to guard those players — and become the player I want to be, and that's hopefully defensive player of the year one day and first-team all-defense."
It's certainly a lofty goal, but it's not crazy to think that Faried can one day be the league's Defensive Player of the Year. He is one of the best athletes in the NBA and is among the hardest-working basketball players on earth, so if he puts it all together, Faried can be devastating on the defensive side of the ball.
Faried says that he has worked on other things during the offseason, saying that he's "added some things" to his game. Regardless, Denver was 26th in the league in defensive efficiency and 27th in scoring defense last season, so it's good to see that one of the squad's best players is dedicated to getting better on that side of the ball.
Now we just need him to figure out how to defend the pick and roll and how to rotate on the back side when he's not directly involved in the pick and roll. Hopefully new Nuggets coach Mike Malone can bring what he learned in Sacramento — turning Boogie into a functional pick-and-roll defender — to a Denver team that needs to get a lot better on that side of the ball.
(Via the Denver Post)