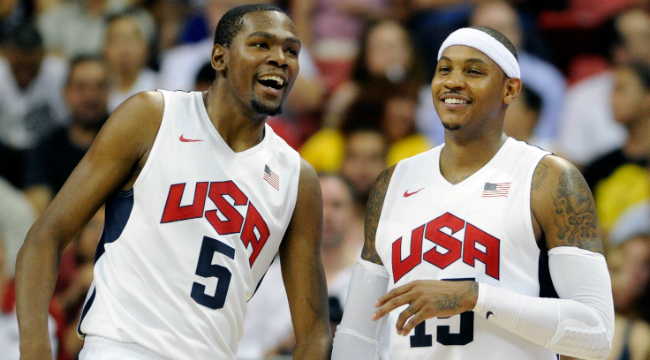 Kevin Durant and Carmelo Anthony are two of the NBA's marquee stars, and they're both coming off major injuries that required surgery — Melo's knee and Durant's foot. Neither of them have seen the court since partway through the 2014-15 season, but, according to ESPN's Marc Stein, they both will return to the court to practice with Team USA in Las Vegas on Tuesday and Wednesday.
The two were already planning on being in Vegas, because Team USA Executive Director Jerry Colangelo said it was a prerequisite for a spot on the team for the 2016 Olympics in Rio de Janeiro (and everybody wants to go to Rio — it's Rio), but initially only planned to attend meetings. Apparently, coach Mike Krzyzewski promised the two stars that the practices would be low-impact enough not to endanger their recoveries.
Durant and Anthony won't participate in the intrasquad game at UNLV's Thomas and Mack Center on Thursday evening, obviously, which is being broadcast by ESPN2. The scrimmage will be more heavily scrutinized than ever before, considering last year's version saw Paul George gruesomely injure his leg on a stanchion, a moment that has popped back up in the news in light of Dante Exum's recent ACL injury in international play for his native Australia. NBA fans will be holding their breath, praying that everyone makes it through the game unscathed. Durant and Melo won't — and shouldn't — even risk it.
(Via ESPN)