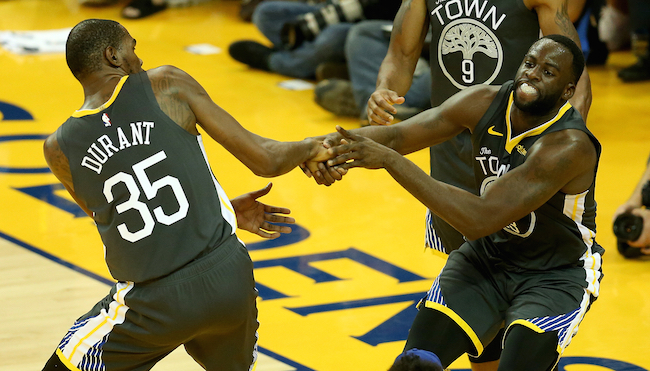 The only thing that can stop the Golden State Warriors from a three-peat this season might be themselves.
When healthy, they're as dominant as ever and Steph Curry is making a strong case early on this season that he should win his third MVP award. He's taking some time off due to a groin injury that the Warriors are being very careful with, and as such the role of top dog is turned over to Kevin Durant.
On Monday night in Los Angeles, Durant had 33 points, 11 rebounds, and 10 assists against the Clippers, but that still wasn't enough as the Warriors lost in overtime. The reason they got to overtime was a hot fourth quarter from Klay Thompson. There was a chance for Golden State to get the last shot after a miss from Lou Williams late in the fourth quarter, but Draymond Green charged up the floor and fumbled the ball away before the Warriors could get an attempt.

As you can see in the video, Durant really wanted Green to pass him the ball when he got the rebound, but with five seconds to play Green put his head down and tried to get up the court himself. When the Warriors got back to the bench, the two had to be separated by noted peacemaker DeMarcus Cousins, who walked with Green to calm him down, as Durant lamented that Green needed to "pass the damn ball."

The question for every superteam that forms in the NBA is always "who will get to take the last shot?" For the most part, Golden State has shared the love and that's part of what's made them so lethal. Curry, Thompson, or Durant are more than capable of drilling a game-winner, but when Steph isn't around it's clear Durant feels the ball belongs in his hands in these moments, not Green, even if Green pushes the ball up the floor at nearly every other opportunity during the game.
Is this an actual thing? As in, something that will cause friction and derail the three-peat train? Not likely, but it does show that there are still some tensions over how to handle these situations three years into the Durant era in Oakland. It also will be used by those that believe Durant will be walking this year as further evidence that he's a bit frustrated by not being the man and treated as such with the Warriors.
That may be true, but most likely this is just some drama in the midst of a heated game that ended up on camera. We've seen it before with Green and Durant and all was well.